A cappella Choir to perform touring concert at Northwestern
Thursday, March 23, 2017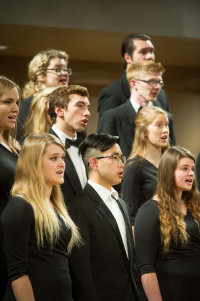 Northwestern College's A cappella Choir will perform its touring concert in Christ Chapel on Friday, April 7, at 7:30 p.m. The event is free and open to the public.
The concert will include pieces the choir performed during their tour in Minnesota March 30 through April 2. The tour included a performance for patients and patients' families at the Mayo Clinic in Rochester.
The concert will include devout church music, gospel spirituals and Renaissance selections. The traditional spiritual "Get Away, Jordan" will feature a solo by freshman Anthony Reno, West Des Moines, and "Libiamo Ne'lieti Calici" from Verdi's opera "La Traviata" will feature soprano and tenor solos by Brenna Ellington and Matthew Shuka, respectively. Ellington is a senior from Phoenix and Shuka is a sophomore from Ames, Iowa.
The choir will also perform Franz Biebl's "Ave Maria," "Lullaby" by Daniel Elder, and their traditional closing hymn, "Beautiful Savior."
The 37-member A cappella Choir is directed by Professor Jaeeun Kim, instructor in music at Northwestern. The ensemble has performed across the U.S. and abroad, including in Taiwan last spring.