Northwestern included on President's Honor Roll for community service
Wednesday, October 12, 2016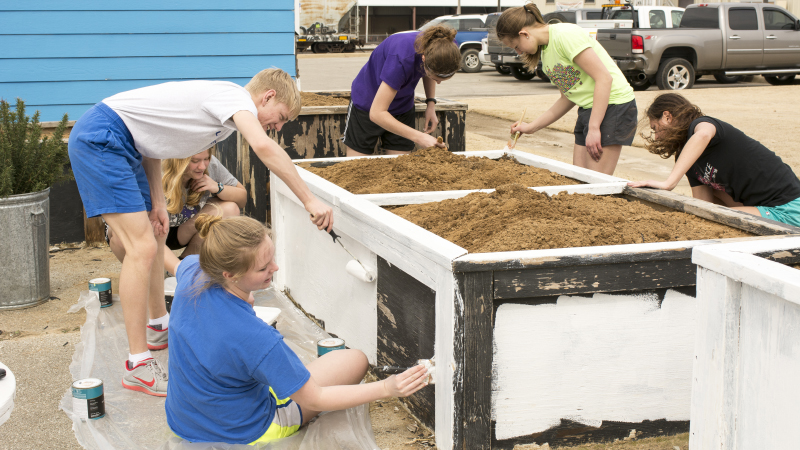 Northwestern College is included in the most recent President's Higher Education Community Service Honor Roll in recognition of its strong commitment to volunteerism, service-learning and civic engagement.
This is the ninth year Northwestern has been recognized on the list.
"We are pleased and honored that Northwestern is again receiving this award," says Barb Dewald, associate dean of Christian formation at Northwestern. "The college has long valued living out our Christian faith through serving locally, nationally and internationally. As students invest their time and energy, they have the opportunity to learn as they visit new environments, gain wisdom from experienced community leaders, and form significant relationships. As they catch glimpses of different ways God is at work in the world, we pray they will seek out opportunities to answer God's call to live a life of service in their families, communities and churches after they graduate."
The Corporation for National and Community Service, which administers the annual Honor Roll award, recognized 652 colleges and universities for their role in solving community challenges. Honorees were chosen from applicants based on a series of factors, including the scope and innovation of service projects, the extent to which service-learning is embedded in the curriculum, commitment to long-term campus-community partnerships, and measurable outcomes.
Northwestern students provided more than 24,000 hours of service during the academic year. Over 566 students were enrolled in one of 36 courses containing a service-learning component. A total of 1,070 students were involved in non-academic community service projects, including participation in Spring Service Projects; the Summer of Service program; or Project Serve, which enables wings, floors or whole halls of students to participate in local community service.
 "I thank God for our long history of service and mission engagement at Northwestern College," says Patrick Hummel, director of missions. "Our commitment to send students out to both serve and learn is a defining mark of a Northwestern College education. These opportunities set our students on a trajectory for lives that include service and ministry to the glory of God."
Dewald and Hummel coordinate the college's co-curricular community service, and Sandi Altena, director of the college's Franken Leadership Center, arranges academically based service-learning efforts. The college also has seven student leaders who help coordinate community service opportunities.
The Corporation for National and Community Service oversees the Honor Roll in collaboration with the Department of Education, the Department of Housing and Urban Development, Campus Compact, the American Council on Education and the Interfaith Youth Core. More information is available at www.nationalservice.gov/honorroll.