Northwestern to pilot program for students with intellectual disabilities
Friday, April 15, 2016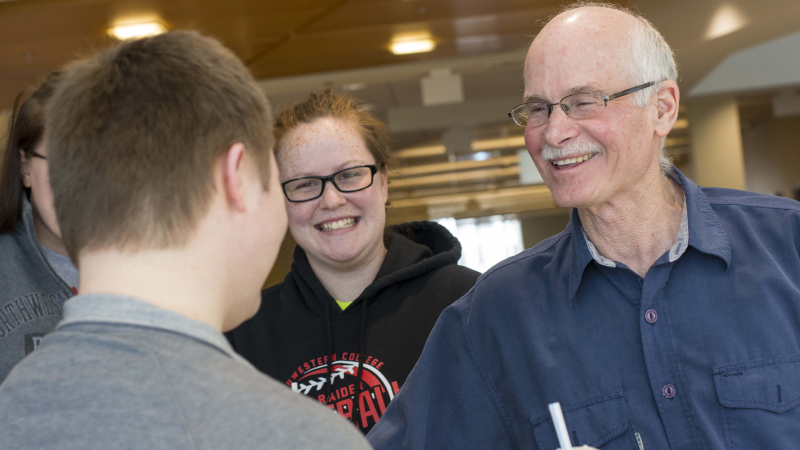 John Menning, Northwestern College's disabilities service provider, will coordinate Northwestern NEXT, a new program for college-age students with intellectual or developmental disabilities.
Northwestern College will pilot a new program, Northwestern NEXT, for college-age students with intellectual or developmental disabilities, during the 2016–17 school year.
The two-year certificate program is for 18- to 22-year-olds with documented intellectual or developmental disabilities. Participants will live in a campus residence hall with a specially selected roommate/peer mentor, participate in campus activities and social events, and take individually customized classes in practical academics, health and wellness, independent living and career readiness.
Northwestern's disabilities service provider, John Menning, will serve as the program coordinator for Northwestern NEXT. Menning was a special education teacher for 32 years before joining the college's Peer Learning Center, which provides tutoring and other learning services to all Northwestern students. Menning has also been an adjunct college professor. He earned a master's degree in special education from Augustana University in Sioux Falls.
"We are eager to launch this program," says Menning. "It's a great fit with Northwestern's Vision for Diversity, which states that we want to engage the fullness of our similarities and differences as a campus community. I think having students with disabilities as part of our community is a great addition to campus diversity and another opportunity for students to learn from each other."
For more information about Northwestern NEXT—including a full list of courses and projected program tuition, room and board costs—visit the website, nwciowa.edu/NEXT, or contact Menning at 712-707-7454 or john.menning@nwciowa.edu.