Music professor wins composers' competition
Wednesday, February 4, 2015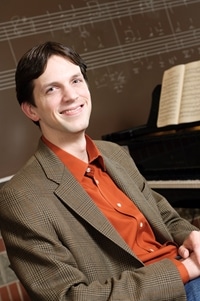 Dr. Luke Dahn, associate professor of music at Northwestern College, has been named the winner of the 2014 John Donald Robb Composer's Competition hosted by the University of New Mexico (UNM).
Dahn's composition, "Buffalo Dance," earned him the top spot in the international competition, as well as the accompanying award of $3,500. His piece, written for alto saxophone and piano, will be performed at the 44th annual John Donald Robb Composers' Symposium March 22–25 at the University of New Mexico.
Based on the Native American chant of the same name, "Buffalo Dance" was written by Dahn in 2008, shortly after he graduated from the University of Iowa with a doctorate in music composition. He wrote the piece for Kenneth Tse, a saxophonist and member of the University of Iowa music faculty.
To be eligible for the competition, contestants must compose a piece using material from the John Donald Robb field recordings in the UNM archives. Composers from across the globe are invited to submit instrumental or vocal solo pieces, as well as chamber work for up to six musicians. A winner is selected by a panel of international judges.
Dahn has served as a member of Northwestern's faculty since 2007. In addition to his doctorate, Dahn earned a Master of Music degree from Western Michigan and a bachelor's in music from Houston Baptist.
Dahn is also co-founder and co-artistic director of Ensemble: Peripherie, a music group devoted to the promotion of emerging and underperformed composers. The ensemble performed in New York's Carnegie Weill Hall in 2013 as part of the DCINY Distinguished Concerts Artists Series.