NWC ranked among nation's top colleges
Monday, August 25, 2014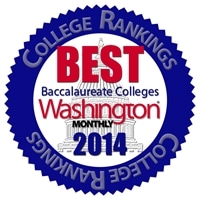 Northwestern College has been ranked eighth among the nation's top baccalaureate colleges by Washington Monthly. The magazine's rankings, released today, are based on how well the schools contribute to the public good in the areas of social mobility, research and service.
Northwestern has been ranked in Washington Monthly's top 10 nationally since the magazine began ranking baccalaureate colleges in 2010. Northwestern has also been the highest ranked Iowa college each year.
The rankings list Elizabeth City State University of North Carolina first, followed by Tuskegee University of Alabama. In addition to Northwestern College, other baccalaureate institutions in Washington Monthly's top 20 include Taylor University, 10th; Augustana College of South Dakota, 11th; and Loras College, 16th.
"We are pleased that Washington Monthly has ranked us among the best colleges in the nation for the fifth consecutive year," says Greg Christy, Northwestern College's president. "Northwestern is committed to empowering students to follow Christ and pursue God's redeeming work in the world, so we're gratified to see that data consistently shows our graduates are leading lives of service, achievement and research.
Washington Monthly's ranking system is designed to measure how effectively colleges serve their students and, ultimately, the country. In an article on its website, the magazine says, "Higher education, after all, doesn't just affect students. We all benefit when colleges produce groundbreaking research that drives economic growth, when they put students from lower-income families on the path to a better life, and when they shape the character of future leaders. And we all pay for it, through hundreds of billions of dollars in government-financed financial aid, tax breaks and other spending."
Among the factors figuring into the Washington Monthly rankings are the number of bachelor's degree recipients who go on to earn doctoral degrees or serve in the Peace Corps as well as the number of students who participate in community service and the staff support those efforts receive. In addition, the magazine considers the cost-adjusted graduation rate, which includes components such as net price, the percentage of Pell Grant recipients, and the ACTs of incoming students, in an effort to highlight schools that use their resources to educate students effectively at a relatively low cost.
Northwestern is ranked fourth in community service participation, relative to the size of the school, and 11th each in the category of support for community service and in the number of alumni serving in the Peace Corps.
Northwestern College is a Christian college of more than 1,200 students in Orange City, Iowa, committed to developing students' minds and empowering their faith as they prepare to lead in the world.