Athletics website ties for first place nationally
Monday, June 23, 2014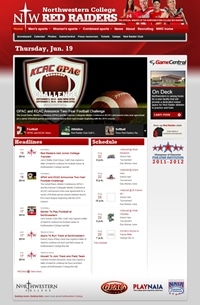 The Northwestern College athletics website has tied for first place among sites produced in-house in the 2013–14 NAIA Sports Information Directors of America (NAIA-SIDA) awards competition. The site, www.nwcraiders.com, tied with Baker College's site, www.bakerwildcats.com.
Northwestern's site, which was completely overhauled in early 2013, includes preview and postgame write-ups for nearly every athletic contest, audio and video clips, webcasts, schedules, rosters, news, photos, stats, and details about each team's past success. It also includes biographical information on coaches and athletes; each player's bio includes a section of links to any stories in which he or she has been mentioned. A custom-built content management system allows staff to easily update information.
The site was developed by Dan Robinson, web development manager, in conjunction with Matt Bos, sports information director, and Brian Wede, assistant sports information director. Web Developer Mark Haselhoff also assists with the site.
"The website is very attractively designed and has many features fans are used to seeing on the sites of NCAA Division I universities," says Duane Beeson, director of public relations. "Very few schools competing at the NAIA level attempt to develop their athletics site in-house. For us to do that and receive such a high national honor is a credit to the talents and hard work of all those who have developed and maintained the site."
The original site for www.nwcraiders.com tied for second place in the 2007–08 NAIA-SIDA contest. Robinson has also won awards from the Council for Advancement and Support of Education District Six and Higher Education Marketing Report for the main website, www.nwciowa.edu, and mobile site, m.nwciowa.edu, both of which he developed.