Dean of enrollment management to present
Wednesday, June 25, 2014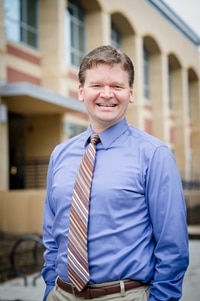 Kenton Pauls, dean of enrollment management at Northwestern College, will present at two conferences this summer.
Pauls will present "In Search of the Holy Grail: Customizing CRM in the Quest for Campus-Wide Collaboration in Recruitment" at the Noel-Levitz National Conference on Student Recruitment, Marketing and Retention in Chicago July 8–10. Pauls' session will focus on the importance of collaboration among faculty, staff, coaches and administration in reaching enrollment goals.
The presentation will center on research and experience that point to the best practices surrounding collaboration in recruitment—highlighting the capabilities of a database, the Prospective Student Center (PSC) developed by Dan Robinson, Northwestern's web development manager. The PSC enables campus-wide collaboration in many ways. Automatic notifications  inform various faculty and staff whenever potential students schedule a campus visit or show interest in a particular academic department or sport. "These systems, though imagined by admissions, could not have been implemented without the creative work of Dan Robinson," says Pauls. "He took this concept and made it a programming reality."
Pauls will also present with Mike Wallinga, Northwestern's director of institutional research, at the ACT Annual Enrollment Planners conference in Chicago July 23–25. Their presentation, "Predictive Modeling on the Cheap," will provide information on how colleges can effectively utilize on-campus expertise to develop models that are both statistically sound and practically useful in predicting the actual enrollment of prospective students based on a number of factors.
"A predictive model was identified as being necessary for the fall 2014 recruitment season," says Pauls. After reviewing potential vendors, Pauls realized Wallinga was willing and able to develop the necessary tools. "Mike is immensely talented, and the final result has been very helpful in the recruitment of this year's incoming class."
As dean of enrollment management, Pauls oversees Northwestern's admissions, financial aid and public relations offices, and works with other officials in the area of student retention. Before joining Northwestern's staff in 2011, Pauls served as director of enrollment services at the University of North Dakota. He earned a bachelor's degree in business administration at Trinity Western University and an M.B.A. from the University of North Dakota.