Jazz Band & Percussion Ensemble to perform
Wednesday, April 16, 2014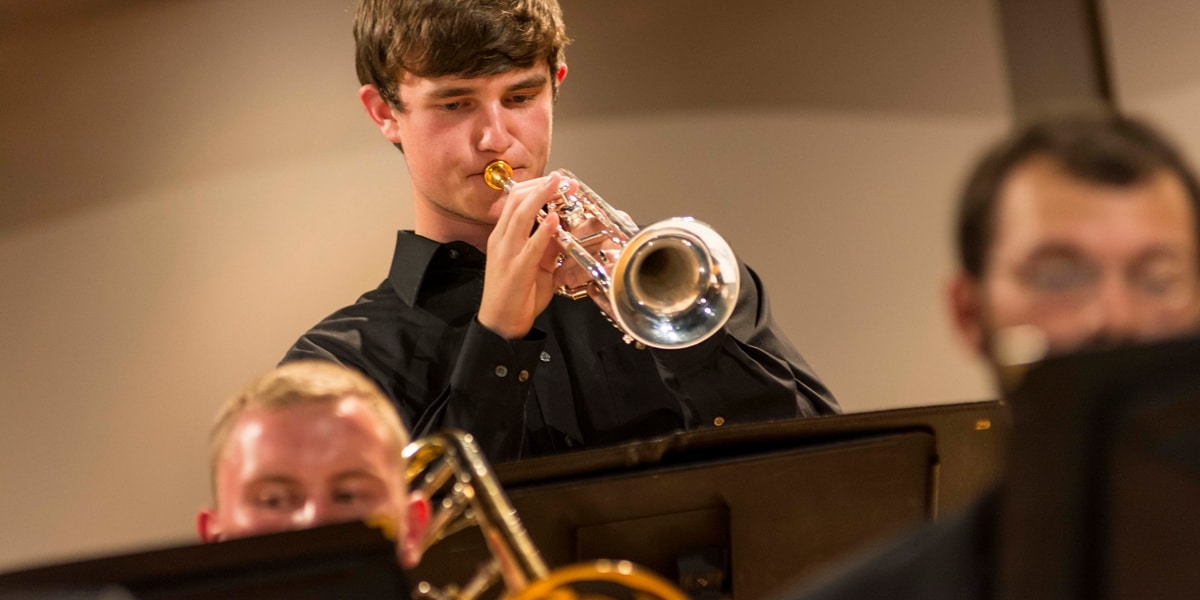 Northwestern College's Jazz Band and Percussion Ensemble will perform a concert on Friday, May 2, at 7:30 p.m. in Christ Chapel. The event is free and open to the public.

The Jazz Band, directed by Dr. Timothy McGarvey, professor of music, will perform a collection of music once performed by legendary jazz musicians Miles Davis, Maynard Ferguson and Dizzy Gillespie. The program will include "Israel" by John Carisi, "Tutti for Cootie" by Duke Ellington and Jimmy Hamilton, "A Night in Tunisia" by Dizzy Gillespie and Frank Paparelli, and "Give It One" by Maynard Ferguson and Alan Downey.
The band will also perform Don Raye and Gene De Paul's "You Don't Know What Love Is," Andrew Neu's "Zebrano," and "Route 66" by Bobby Troup.
The concert will feature guest soloist Justin Kisor on trumpet. A professional trumpet player at age 13, Kisor earned international recognition as a jazz soloist by 17, becoming one of five recipients of the Clifford Brown/Stan Getz Fellowship. A graduate of The Juilliard School in New York, Kisor performed with the United States Navy Band Commodores in Washington, D.C. Upon completion of his duties with the Navy, Kisor moved back to his hometown of Sioux City and currently serves as a trumpet instructor at Northwestern.
The Percussion Ensemble, directed by Northwestern's percussion instructor Tim Hillyer, will perform "5 Miniatures" by John Bergamo, which features five elements of music determined by the performers. Rhythm, dynamics or tone colors are performed in each movement, with some only lasting less than 20 seconds. "The music is chance music, so it can be different for every performance," says Hillyer.
The ensemble will also perform "D+" by Nick Romero; "Jesu, Joy of Man's Desiring" by J.S. Bach; "The Girl with the Flaxen Hair" by Claude Debussy; and "Fresh Trash" by Ed Argenziano.