Author to speak in chapel April 28
Friday, April 11, 2014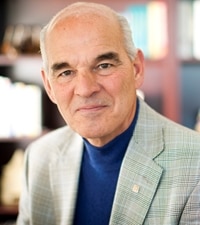 Glenn Van Ekeren, a 1974 Northwestern College alumnus who is a prolific author and speaker, will speak in the chapel service on Monday, April 28, at 10:05 a.m. His speech is entitled "Fill Your Saddlebags: Life's Lessons From an Old Guy." The event is free and open to the public.
Van Ekeren is the president of Vetter Health Services in Omaha, Neb., a company that owns 30 senior living facilities in a five-state area and employs 3,500 team members. He has also traveled the country for more than 30 years, sharing his goal of living every minute to the fullest to over 100,000 people through more than 1,300 presentations.
Van Ekeren is the author of several books, including "Playbook: Strategies for Being a Standout Performer," "Tinker: The Art of Challenging the Status Quo," "Love is a Verb" and the "12 Simple Secrets to Happiness" series.
The Northwestern graduate is speaking on campus as part of the Ronald R. Nelson Scholars and Artists in Residence Program, which seeks to inspire students with scholarship that encourages peace and justice. The program is named in honor of a history professor who taught at Northwestern from 1974 until his death in 1985.