Northwestern to host book launching event
Wednesday, April 9, 2014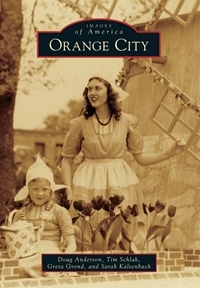 A new book about the history of Orange City, part of the Images of America series by Arcadia Publishing, will be on sale during a book launch event at Northwestern College Wednesday, April 23.
The book's authors will sign copies during the Dutch-themed party, scheduled for 2 to 3:30 p.m. in the Vogel Community Room of the college's DeWitt Learning Commons. Refreshments will include almond patties—a traditional Dutch pastry—and Wilhelmina mints, named for a 19th-century Dutch princess.
"Orange City" may also be pre-ordered through Amazon.com and will be available after its April 14 release at a variety of local retailers. A portion of the proceeds from all sales of the book will benefit Northwestern's DeWitt Library.
Northwestern history professor Dr. Doug Anderson spearheaded the book after seeing a similar volume about Chadron, Neb.—authored with the help of students by two Chadron State College professors—in an Omaha bookstore. Library director Tim Schlak and reference and systems librarian Greta Grond, with assistance from student Sarah Kaltenbach, helped Anderson conduct research, compile photos, write captions and check facts. The majority of the book's photos came from the Northwestern College archives.
The 128-page paperback includes information on Orange City's founding as a colony of Dutch-Americans who migrated from Pella, Iowa, under the leadership of Henry Hospers. Within five years, the town had railroad connections, was the seat of Sioux County, and circulated a weekly Dutch-language newspaper. A pictorial history with approximately 200 photos, the book also covers the founding and growth of Northwestern College and the community's annual Tulip Festival.