Cashore Marionettes to perform at NWC
Monday, March 24, 2014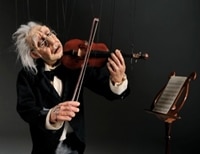 Award-winning puppeteer Joseph Cashore will present a performance of the Cashore Marionettes on Tuesday, April 8, at 7 p.m. in Northwestern College's Christ Chapel. The event, sponsored by the Orange City Arts Council, is the final performance of the 2013-14 Beyond Onstage series.
Tickets are $10 for adults, $7 for students and free for children under age five. Tickets are available for purchase at the Orange City Arts Council and the Dove Christian Bookstore in Orange City, Northwestern's theatre and music departments, and at the door.
Cashore was first introduced to a marionette while on vacation with his parents in New Jersey. Inside a large gift shop located along the shore, a marionette dressed as a colorful pirate was hanging from the ceiling. Fascinated by the puppet, Cashore asked the saleswoman if he could try moving the piece. Although she declined, his interest in marionettes continued to grow.
After graduating from the University of Notre Dame with a bachelor's degree in fine arts, Cashore went on to attend the Pennsylvania Academy of Fine Arts to study portrait and figure painting. He began designing the intricate puppets himself, overcoming enough technical problems to eventually create one that could convincingly perform a violin solo.
A recipient of the Henson Foundation Grant, Cashore was awarded the Pew Fellowship for Performance Art and the UNIMA Citation of Excellence, which is the highest honor a U.S. puppeteer can receive. A PennPAT Roster Artist, Cashore has toured across Europe and North America, and was also featured in the 2010 spring/summer issue of Puppetry International.
For more information on the performance, contact the Orange City Arts Council at 712-707-4885 or ocarts@orangecityiowa.com.