Northwestern to host Scholarship Auction
Thursday, January 9, 2014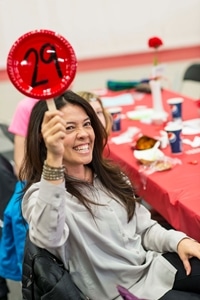 Minnesota Twins tickets, expert landscaping and lawn care, and Isabelle, 2014's American Girl Doll of the Year, are among the hundreds of items up for bid at the Northwestern College Alumni Association's 31st annual Scholarship Auction on Saturday, Feb. 8.
Silent auction bidding (which includes a "buy it now" option) begins at 10:30 a.m. in the Rowenhorst Student Center's gym; the audible auction begins at 11:30 a.m.
Orange City's American Legion chapter will be at the Scholarship Auction this year, serving a waffle breakfast from 7:30 to 11 a.m. Tickets are $6.50 and are available at the door or in advance from any Legion member.
Items up for bid on Feb. 8 are available for online browsing at www.nwciowa.edu/auction.
Golf gear, lessons and resort packages will be on the block. Vacation condos in Okoboji and Keystone, Colo., will be up for bid, as will tickets to Wild Water West, Chanhassen Dinner Theatre and Adventureland.
Technology enthusiasts can bid on a Sharp LED HDTV or a Kindle Fire e-reader. Warm up with a queen-size handmade quilt or cool off with a year of Culver's custard.
Auction proceeds support scholarships, student life programs and teaching excellence at Northwestern. Last year's auction was attended by more than 300 guests and raised $33,000. Fifty students received Alumni Association scholarships for this school year.
A complete listing of the Scholarship Auction items will be available beginning Friday, Jan. 31, at the RSC desk, Orange City businesses and MJ's Sinclair in Sioux Center.