Northwestern chamber ensembles to perform
Thursday, November 7, 2013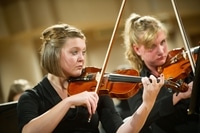 Northwestern College chamber ensembles will present a concert Monday, Nov. 25, at 7:30 p.m. in Christ Chapel. The event is free and open to the public.
The concert will include performances by a string quartet as well as two brass quintets that will later perform two joint pieces as a double brass quintet. Compositions have been drawn from a variety of time periods, including a number of jazz-related pieces.
Directed by Chad Hutchinson, the string quartet will perform two classical pieces, "Hungarian Dance No. 4" by Brahms and Mozart's "String Quartet No. 1, K. 80."
One brass quintet will perform Eric Robertson's arrangement of "Sarabande" by Handel, Gary Kulesha's transcription of "The Girl With the Flaxen Hair" by Debussy and Allan Dean's arrangement of "Arioso From Cantata No. 156" by Bach. The group will also perform "Kyrie" from the "Requiem K.626" by Mozart, transcribed by Dale Hedding, and an arrangement of the familiar hymn "It is Well" by Robert Supplee.
The second brass quintet's performance will consist of "Laura" by David Raksin, arranged by Ingo Luis; Jack Gale's arrangement of "Satin Doll" by Duke Ellington; and an arrangement of Samuel Scheidt's "Battle Suite" by Philip Jones. That ensemble will also perform John Cheetham's "A Brass Menagerie," a modern piece composed specifically for brass quintet.
The quintets will combine to perform Pachelbel's "Magnificat," transcribed by Arthur Frackenpohl, and "Voluntary on Old Hundredth," a piece based on the Doxology.