Jazz Band and Heritage Singers to perform
Wednesday, October 30, 2013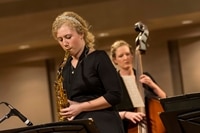 The Northwestern College Jazz Band and Heritage Singers will present a concert on Friday, Nov. 15, at 7:30 p.m. in Christ Chapel. The event is free and open to the public.
"It'll be interesting for the audience to see the variety between what the Heritage Singers and the Jazz Band are performing," says Dr. Timothy McGarvey, professor of music and director of the Jazz Band.
Conducted by Dr. Thomas Holm, the Heritage Singers will perform Giacomo Carissimi's "Jephte" oratorio. The piece draws on a story from the book of Judges in the Old Testament, in which Jephthah promises God he will sacrifice the first thing that comes out of his door if he returns victorious in battle, and is forced to sacrifice his daughter. Carissimi uses chorus, soloists and harmonic/rhythmic nuance to portray first the battle, then the celebration of victory, and finally, great sorrow.
 The cast will include narrators Amanda Vander Stelt and Jacob Ven Huizen, Brady Dyson as Jephte and Bretta Krieg as his daughter Filia, as well as Abby Saign, Megan Rustad, Sarah Odom and Jenna Ripke as supporting soloists. Naoko Oura will play the cello, and Terissa Te Slaa will play the harpsichord.
The Heritage Singers is a 24-voice chamber choir that regularly performs programs ranging from opera and madrigal dinner to chamber music. The ensemble's performance of "Jepthe" is believed to be the first time this work has been performed in northwest Iowa.
The Jazz Band's program will include many recognizable pieces such as "I Left My Heart in San Francisco" by George Cory and Douglass Cross, arranged by Quincy Jones, and "Spain" by Chick Corea, arranged by Paul Jennings. The band will perform Dave Wolpe's arrangement of "I Got Rhythm" by George and Ira Gershwin, featuring student soloist Matt Honken. Other pieces will feature improvised solos by multiple student soloists.
Other compositions to be performed include "In a Mellow Tone" by Duke Ellington, arranged by Dave Wolpe; "Told Ya So" by Gordon Goodwin; "Arnge Drank" by Paul Baker; and an arrangement of Woody Herman's "Apple Honey" by Rick Stitzel.
The Jazz Band is a 20-member big band playing a variety of jazz styles. The ensemble performs several times each year and features guest and student soloists.