Music prof to perform at Carnegie Hall
Thursday, September 19, 2013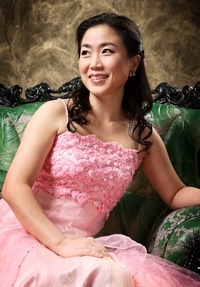 Juyeon Kang, an award-winning Steinway artist and Northwestern College music professor who has performed on four continents, will present a piano recital in Carnegie Hall's Weill Recital Hall in New York City on Saturday, Oct. 19, at 2 p.m. The performance will be a benefit concert for victims of Hurricane Sandy.
Kang, a member of Northwestern's faculty since 2003, will present "Joyful Dances." Her concert will feature dance music by Bach, Beethoven, Chopin, Debussy and Piazzolla.
A native of Korea, Kang launched a performance career that included her debut solo recital in Boston's Jordan Hall after winning two first prizes in 1998: the Heida Hermann's Young Artists Competition and the Josef Hofmann Piano Competition. She has performed extensively around the world, including a concert at the Polish embassy in Washington, D.C., on the 150th anniversary of Chopin's death and appearances as a soloist with the Korean Symphony Orchestra and South Dakota Symphony Orchestra. 
Classik Reviews wrote that Kang's playing "is distinguished for her firm, beautiful tone, her strong sense of rhythm, and her ability to create indelible characterizations." A review from American Record Guide said she "played heartily" with "a considerable amount of charm and always beautiful tone control."
Ticket prices for the Carnegie Hall recital are $40; $20 for seniors and students. They can be purchased at the Carnegie Hall Box Office, via CarnegieCharge at 212-247-7800 or at www.carnegiehall.org. The senior/student price is only available at the Box Office, located at 57th and Seventh.
A post-concert reception with Kang will be held at Marble Collegiate Church, 274 Fifth Avenue at 29th Street, from 4 to 5:30 p.m
Proceeds from the concert will be used by the RCA Care Network, the disaster response arm of the Reformed Church in America, to help people along the East Coast in the ongoing recovery from Hurricane Sandy.
"I seek to express my Christian faith through music," says Kang, who notes that the theme verse for her concert, Jeremiah 31:4, can provide comfort for those who suffered losses from Sandy: "I will build you up again … Again you will take up your tambourines and go out to dance with the joyful." She explains, "I've always desired to perform in Carnegie Hall, but I wanted this opportunity to benefit others. I'm pleased I can partner with the RCA Care Network and help those in the New York area who are still rebuilding their lives."
The Carnegie Hall concert coincides with the release of Kang's second recording. Also entitled "Joyful Dances," it includes much of the repertoire from her recital as well as a piece from Robert Schumann. Her first album, "Joyful Noise," debuted in 2007.
Kang earned doctoral and master's degrees in piano performance and literature, as well as a master's degree in pedagogy of music theory, at Eastman School of Music in Rochester, N.Y., where she was awarded a distinguished performer's certificate. Kang earned a bachelor's degree in music at Seoul National University and the prestigious artist diploma in piano performance from the New England Conservatory of Music in Boston, where she was on the faculty in the college division.