Music dept to present Raider Days Concert
Friday, September 13, 2013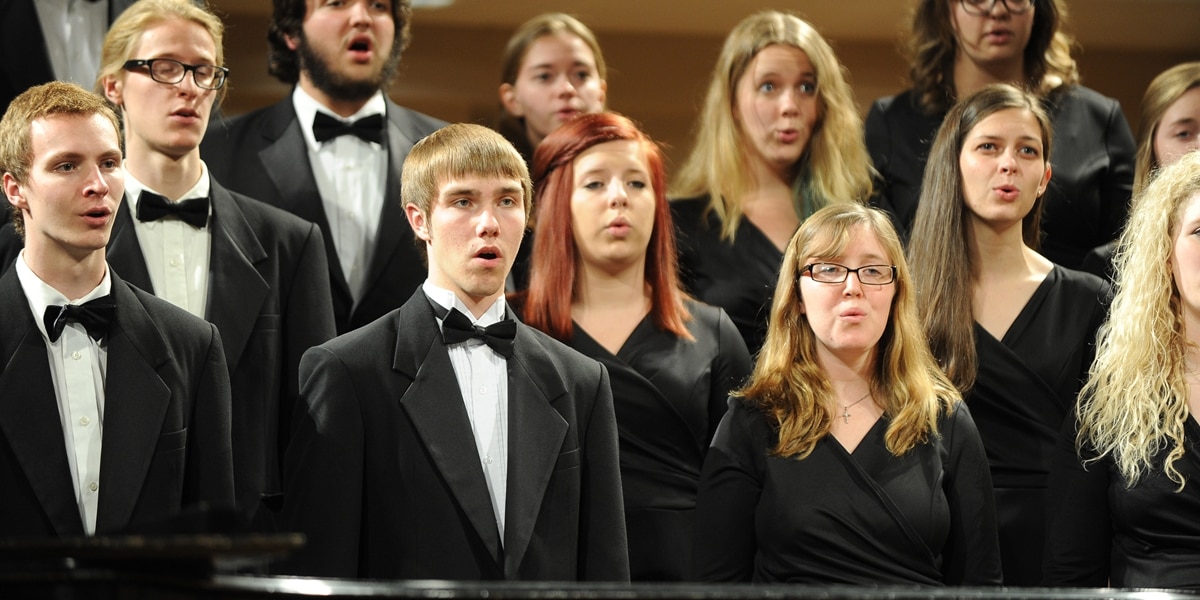 Northwestern College's music department will present its annual Raider Days Concert on Saturday, Sept. 28, at 7 p.m. in Christ Chapel. It will feature performances by the Jazz Band, Women's Choir, Chamber Orchestra and A cappella Choir, as well as the Heritage Singers, Symphonic Band and several student soloists.
The concert is free and open to the public. Following the performance, a reception for the parents of Northwestern music students will be held in the Vogel Community Room in the DeWitt Learning Commons.
"This concert showcases each unique ensemble and shows the audience a spectrum of what the music department offers," says Chad Hutchinson, director of both the Women's Choir and the Chamber Orchestra. "It also brings back memories for alumni who were involved in the music department."
The Jazz Band will perform "Arnge Drank" by Paul Baker and an arrangement of Rick Stitzel's "Apple Honey" by Woody Herman.
The Women's Choir will sing "Wanting Memories" by Ysaye Barnwell and "My True Love Has My Heart" by Eugene Butler.
"Intermezzo" from "Cavalleria Rusticana" by Pietro Mascagni will be performed by the Chamber Orchestra. Each section of the orchestra will be featured within their performance of an old Irish tune, "Finale" from "St. Paul's Suite" by Gustav Holst.
The A cappella Choir's program will include "Kyrie" from "Cantus Missae Mass for double choir" by Josef Rheinberger and "Benedictus" from "Amass" by Jocelyn Hagen, with solos by soprano Rachel Nilson, alto Jenna Ripke, tenor Jeremy Lansink and bass Ben Backstrom. The ensemble will also sing "Rotala (Round Dance)" from "Neslegtais Gredzens" by Juris Karlsons and an arrangement of "Somebody Talkin' 'bout Jesus" by Stacey V. Gibbs.
An arrangement of Nikolai Rimsky-Korsakov's "Flight of the Bumblebee" by Ward Swingle will be performed by the Heritage Singers.
The Symphonic Band will play "Imagine, If You Will …" by Timothy Mahr and "Fanfare and Allegro" by Clifton Williams.
As the 2013 recipient of the Cyndy Rowenhorst Vocal Scholarship, junior Valerie Heaton of Corning, Iowa, will sing a solo of "Voce di donna" by Amilcare Ponchielli. Horn player Aaron Sundet of Clarksville, Iowa, the 2013 winner of the Herman and Elizabeth Ritsema Family Instrumental Scholarship, will perform "Nocturno" by Richard Strauss. Both students will be joined by Julia Huisman, staff accompanist, on the piano.