Students to perform in RUSH concert
Friday, September 13, 2013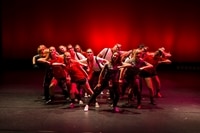 Northwestern College's popular RUSH student dance concert is celebrating its 10th anniversary this year. The concert will be performed seven times: Thursday, Oct. 3, at 7 and 9:30 p.m., Friday, Oct. 4, at 7 and 9:30 p.m.; and Saturday, Oct. 5, at 4, 7, and 9:30 p.m. in the England Theatre of the DeWitt Theatre Arts Center.
Several varieties of dances will be performed during RUSH. "We have all manners of dance in RUSH this year, the most amount of variety I have seen," says junior Rowan Sullivan, who is serving as stage manager. Some dances include contemporary and lyrical contemporary; many are infused with a variety of other styles. The types of dance differ greatly from Fosse jazz to '90s.
All RUSH dances are choreographed by Northwestern students with student dancers who vary from accomplished dancers to those with no dancing experience. After weeks of practice, students come together to put on a fast-paced and entertaining show.
In addition to Sullivan, other RUSH leaders include Amalia Vasquez, artistic director; Kate Eick, choreographer director; Drew Schmidt; faculty producer; and choreographers Nancy Becerra-Balbuena, Kaylee Brugioni, Natalie Church, Isaiah Custer, Krista De Bruin, Eick, Frankie Eszes, Tyler Gleason, Valerie Heaton, Hannah Koster, Amber McNeil, Alex Mullenberg, Megan Weidner and Emily Wohlers.
RUSH tickets can be reserved by emailing boxoffice@nwciowa.edu. The box office will open on Monday, Sept. 23, at 4 p.m. for Theatre Patrons. Tickets for the general public will go on sale Tuesday, Sept. 24, at 4 p.m. Students will be allowed one reserved ticket and Northwestern College faculty and staff, along with the general public, will be allowed to reserve four tickets per family. Tickets are $1 each.