Doreen's Jazz New Orleans to perform at NWC
Monday, September 9, 2013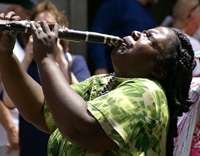 Acclaimed clarinetist Doreen Ketchens will perform with her jazz band, Doreen's Jazz New Orleans, at Northwestern College on Friday, Sept. 27, at 8:30 p.m. The event, in a tent on the campus green as part of Raider Days homecoming and family weekend, is free with a suggested donation of $5.
Ketchens, who has been described as the "female Louis Armstrong" and "Queen Clarinet," performs with her husband, Lawrence, on tuba; Dwayne Nelson on drums; Paul Kemnitz on guitar; and Pete Hittle on trumpet.
Doreen's Jazz New Orleans has been featured on HBO, VH1, PBS, BET and MTV, and has traveled around the world, performing concerts in Africa, Asia, Canada, Europe, South America, Russia and the United States. The group has performed for presidents Jimmy Carter, Ronald Reagan, George H.W. Bush and Bill Clinton, and has performed alongside musicians Trombone Shorty, Jon Faddis and Al Hirt.
The event is sponsored by the Orange City Arts Council, Northwestern College, Diamond Vogel Paint and  Lee Ann Roetman. A workshop will be held prior to the concert for music students from 4:30 to 5:30 p.m. Sept. 27 in Northwestern's Christ Chapel.