World-renowned musicians to perform at NWC
Thursday, August 29, 2013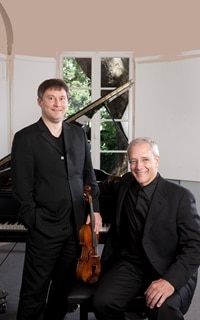 Internationally acclaimed musicians Wolfgang David and David Gompper will present a program of 19th and 20th century violin and piano music in a recital at Northwestern College's Christ Chapel on Friday, Sept. 13, at 7:30 p.m. The concert is free and open to the public.
An Austrian violinist who has won many competitions and prizes, David has performed worldwide with many leading orchestras, including the Royal Philharmonic, Vienna Radio Symphony Orchestra, Johannesburg Philharmonic and Berne Symphony Orchestra. He plays on a violin built after 1724 by Carlo Bergonzi on exclusive loan to him from the Austrian National Bank.
The highlights of David's career include performances at the Great Assembly Hall of the United Nations in New York and in Bangkok for the queen of Thailand. He has also played in major concert halls such as Konzerthaus in Vienna, Carnegie Hall in New York and Wigmore Hall in London.
Admitted to the University for Music in Vienna at age 8, David later continued his music education at the Musikhochschule in Cologne and at the Guildhall School of Music in London.
A composer and pianist, Gompper is the director of the Center for New Music at the University of Iowa. His compositions have been performed throughout the United States and Europe, including at Carnegie Hall and Wigmore Hall.
Gompper studied at the Royal College of Music in London and earned his doctorate at the University of Michigan. He taught, performed and conducted at the Moscow Conservatory through a Fulbright Scholarship. Gompper received an Academy Award from the American Academy of Arts and Letters in 2009.
David and Gompper's guest recital at Northwestern will include Sergei Prokofiev's "Violin Sonata No.1," "Much Ado About Nothing" by Erich Wolfgang Korngold, three Fritz Kreisler pieces and "Nuance," composed by Gompper.
David and Gompper have been working together since 2000. Gompper has composed 11 works for the violinist, including a concerto David recorded with the Royal Philharmonic Orchestra for the NAXOS label.
The duo has toured throughout the United States and Europe, presenting over 100 concerts. While their repertoire includes traditional works for violin and piano, the main focus is a combination of late Romantic, standard 20th century and contemporary compositions written especially for them. Four CDs of the duo are available: two on the Albany label, and one each on Naxos and VDE-Gallo.