Students to benefit from campus improvements
Wednesday, August 14, 2013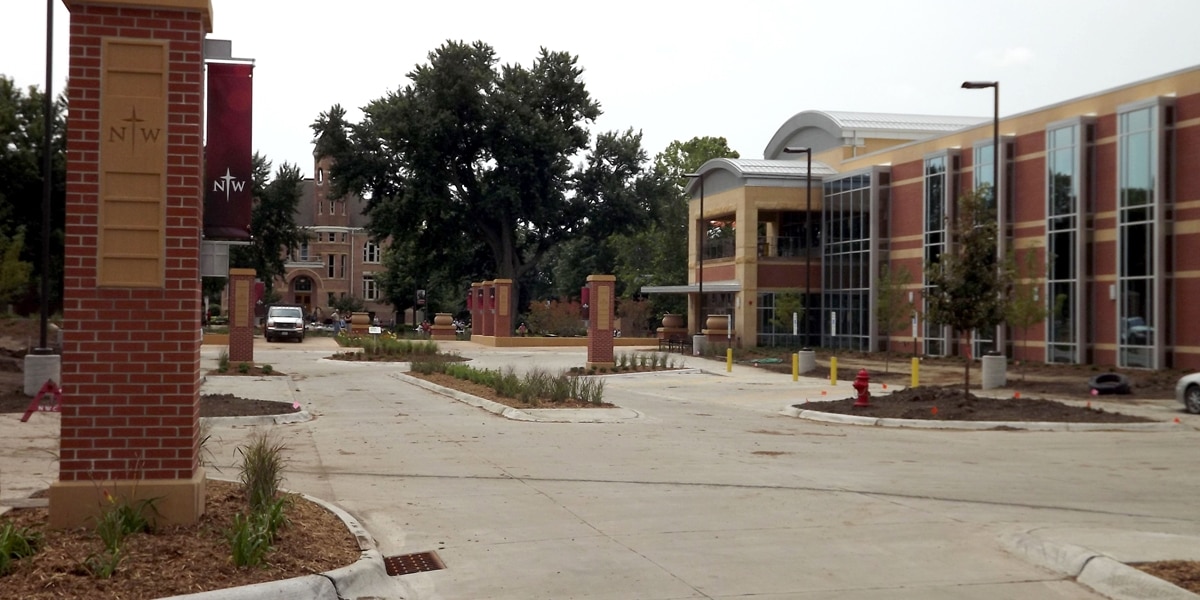 Students arriving at Northwestern College this month will find the campus transformed. The most significant change is the completed Jack and Mary DeWitt Learning Commons, a two-story, 58,000-square-foot addition to central campus replete with resources and space for student learning and community building.
In addition, students will enjoy meals in a remodeled dining center, and by the end of September, they can work out in a redesigned fitness center.
The DeWitt Learning Commons houses the college's library and information resources, peer learning and writing centers, and archives and Dutch heritage collection. Common Grounds, a coffee shop in the building will serve beverages, and the Vogel Community Room on the second floor will host campus and community gatherings and banquets.
The learning commons joins Christ Chapel, Van Peursem Hall and the historic Zwemer Hall bordering the campus green. In addition, the learning commons along with the chapel flank a new boulevard entrance to campus on the north. Landscaped and appointed with bannered brick columns, the boulevard enables visitors to arrive in the heart of campus.
A remodel of the DeWitt Center cafeteria that began last summer with a redesigned serving area was completed this summer as Vermeer Dining Room and Vermeer South were outfitted with fresh paint and new flooring, tables and chairs. The result is a complete remodel that trades crowded buffet lines for easy access and made-to-order serving stations, and students now eat at round tables that enable more intimate, family-style dining.
A month after classes start, before colder weather inhibits outdoor activity, the DeWitt Physical Fitness Center will reopen, the Mini-Gym area replaced by a 3,500-square-foot facility sporting new cardio equipment, resistance machines and free weights; three new racquetball courts visible through glass back walls; and a game zone with table tennis and pool.
The fitness center design features Raider red accents and circular flow patterns that match the sleek, modern look of the two campus facilities it connects: the indoor track and four-court arena, which was remodeled in 2011, and the Rowenhorst Student Center, redone in 2007.
Smaller summer campus improvement projects in Van Peursem Hall have resulted in a computer classroom in the Learning Resource Center and an additional biology classroom and dry lab on the first floor to accommodate growing enrollment in health sciences programs such as athletic training and nursing.