Japanese handbell choir to perform
Monday, July 15, 2013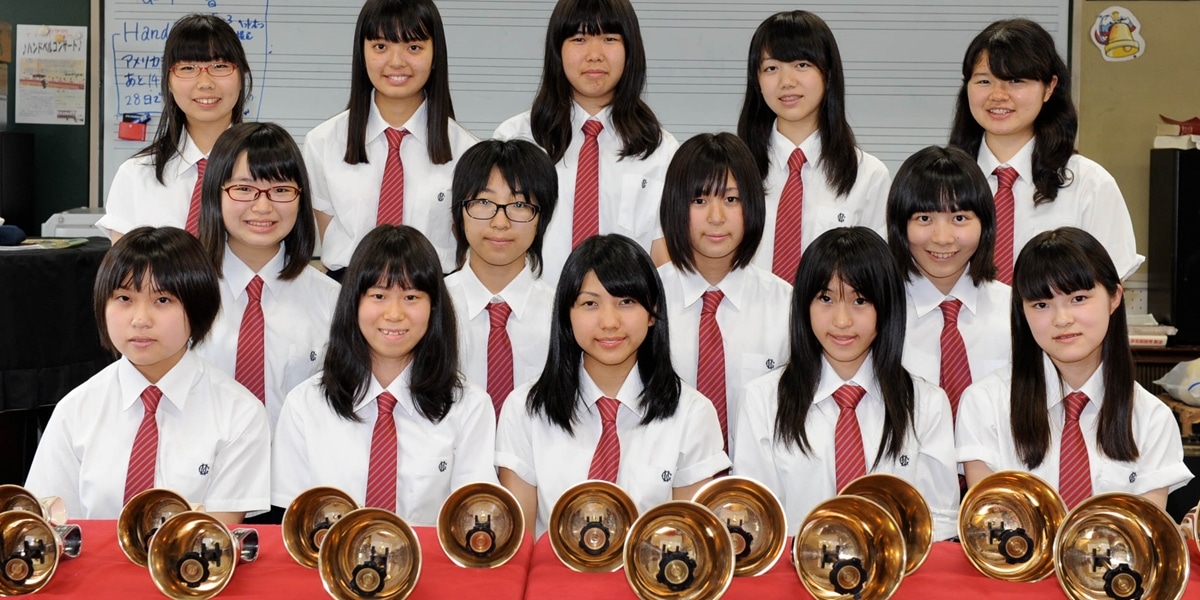 The Glee Handbell Choir from Meiji Gakuin Higashimurayama High School in Tokyo will present a concert in Northwestern College's Christ Chapel on Friday, July 26, at 7:30 p.m. No admission will be charged, but a freewill offering will be received to assist with the school's 2015 tour and handbell maintenance. 

The handbell choir has been part of the ministry of Meiji Gakuin since 1981, and earlier the school had a glee club, which also toured the States as part of a home-stay program. The Rev. Norimichi Odate, current exchange program director, was one of the members of the glee club in 1975, and later became a Northwestern College student, graduating in 1980. Ron Korver began the school's exchange program, says Odate.
Directors of the Glee Handbell Choir are Takanobu Onoda and Kazuyoshi Inagaki.
The ensemble tours the United States biennially and last performed in Orange City in 2011. The choir has performed for enthusiastic audiences in the Crystal Cathedral in Garden Grove, Calif.; at the Handbell Exploration in Phoenix; and on television and radio in Japan.
This year the choir includes 14 young women, who will be staying in homes in northwest Iowa July 25-28. Their five-week tour begins July 19, and takes them to Minneapolis; Worthington, Minn.; Philadelphia; Omaha; Pella, Iowa; Cedar Grove, Wis.; Lafayette, Ind.; Hudsonville, Mich.; Auburn, Calif.; and San Francisco. The choir members will present concerts, sight-see, and get acquainted with American culture via host families. "The choir is here to show our school's appreciation to the host families, host churches and contact people," says Odate.
The choir will also present a concert at Carmel Reformed Church on Sunday, July 28, at 7 p.m, and tentatively plans to perform at the Sioux Center mall on Saturday, July 27. In Orange City, the choir members will also tour Northwestern College. The July 26 concert  is sponsored by Northwestern College Intercultural Affairs and the Orange City Arts Council.
For more information, contact coordinators Janet and John Renes of Sioux Center (722-0327), Northwestern College Intercultural Affairs (gracelo@nwciowa.edu) or the Orange City Arts Council (707-4885, ocArts@orangecityiowa.com, www.orangecityarts.net).