Ensemble to perform at Carnegie Hall
Friday, April 19, 2013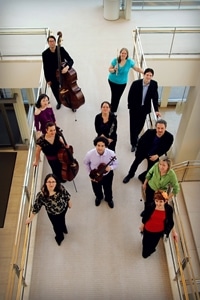 A chamber ensemble for which Dr. Luke Dahn, associate professor of music at Northwestern College, serves as co-artistic director and composer, has been invited to perform at New York City's Carnegie Hall on Saturday, Oct. 26. The concert by Ensemble: Périphérie will be part of the DCINY Distinguished Concerts Artists Series and will begin at 2 p.m. in Carnegie's Weill Hall.
Dahn and co-artistic director Dr. Joseph Dangerfield, associate professor of music at Coe College, founded Ensemble: Périphérie in 2010 with a mission of communicating and sharing with others a love and joy for new music. The group, conducted by Dangerfield, just completed a spring break tour which included concerts at Coe and the universities of Iowa, Minnesota, Northern Illinois and Wisconsin. The Carnegie Hall performance will feature the same repertoire, which included new works composed by Dahn and Dangerfield as well as by Irina Dubkova, David Gompper and Louis Karchin.
Ensemble: Périphérie, www.ensembleperipherie.com, includes strings, clarinet, flute, percussion, piano and soprano vocals. All of the members have completed advanced degrees in music—many at the University of Iowa—and have performed and recorded widely. The ensemble includes musicians who teach at Augustana College of Illinois, Notre Dame, the University of Florida and Western Michigan, among other institutions.
Ensemble: Périphérie has launched a Kickstarter.com fundraising campaign to raise $7,000 by May 22 to help defray costs for travel, instrument transport, lodging and renting rehearsal space for the Carnegie Hall event.
Dahn, a professor of music theory and composition at Northwestern since 2007, received the Northwestern Teaching Excellence Award in 2011. He earned a doctorate in music composition from the University of Iowa, a Master of Music degree from Western Michigan and a bachelor's in music from Houston Baptist.
Dahn's compositions are heard throughout the United States and abroad, with recent performances given by groups such as the Moscow Conservatory Studio for New Music, the NODUS Ensemble, the NEXTET Ensemble, and the violin/piano duo Wolfgang David and David Gompper. He has won the League of Composers/ISCM Composition Competition and the Max Di Julio Prize, and several of his works are available on the Albany label.