Northwestern's Percussion Ensemble and Jazz Band to perform concert
Wednesday, April 17, 2013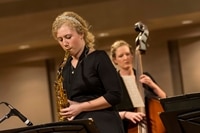 Northwestern College's Jazz Band and Percussion Ensemble will perform a concert on Friday, May 3, at 7:30 p.m. in Christ Chapel. The event is free and open to the public.
The Jazz Band, directed by Dr. Timothy McGarvey, professor of music, will perform a collection of music once performed by legendary jazz musicians Count Basie, Duke Ellington and Freddie Hubbard. The program will include Billy Strayhorn's "Take the A Train," "Up Jumped Spring" by Freddie Hubbard, and "Sunset and the Mockingbird" by Duke Ellington.
The band will also perform two pieces by composer Sammy Nestico entitled "A Warm Breeze" and "Wind Machine," and Denis DeBlasio's "Garton's Brigade." More than half of the ensemble will perform instrumental solos throughout the concert.
The Percussion Ensemble will perform "National Geographic," a hand drum piece composed by Randy Gloss; "Bicyclops" by Béla Fleck and Chick Corea, featuring a mallet trio; and "Septet" by Daniel Levitan. The ensemble will be under the direction of Tim Hillyer, lecturer in music.