Bottom Line Duo to perform at NWC
Friday, March 15, 2013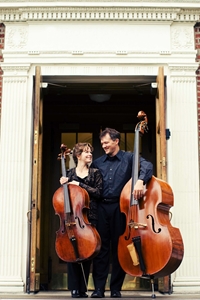 The Bottom Line Duo, a husband and wife music group out of Seattle, will perform a concert at Northwestern College on Tuesday, April 9, at 7 p.m. in Christ Chapel.
The concert is co-sponsored by the Orange City Arts Council and Northwestern College. Adults may purchase tickets for $8 in advance/$10 at the door. Tickets for students are $5 in advance and $7 at the door. For more information, visit www.orangecityarts.net or contact the Orange City Arts Council at ocArts@orangecityiowa.com or 712-707-6514.
Traci and Spencer Hoveskeland have been practicing their instruments since the age of 10. Traci went on to earn a bachelor's degree in music at Western Washington University. After studying with Barton Frank, a former principal cellist of the National Symphony, Traci performed in numerous Broadway musicals as principal cellist in the Paramount and 5th Avenue theatres in Seattle. She has provided music for Tony Curtis, Richard Chamberlain and Patty Lapone, and has performed across the United States, Europe and Mexico.
Spencer also attended Western Washington University, where he studied with Chuck Israels, Barton Frank and Walter Gray. He has performed for numerous Broadway plays, including "Fiddler on the Roof," "Cinderella" and "Chicago." He was principal bass of the Whatcom Symphony for six years and appears as a session musician on the soundtracks for "About Schmidt," "Woolly Boys" and "Man on Fire."
The Bottom Line Duo is one of three internationally touring bass and cello duos in history, and the only full-length bass and cello show in the world. Seattle Weekly describes the duo's performance as "Elegant. Their simple, rich instrumentation gives them the freedom to explore the whole musical spectrum."