NWC included on service honor roll
Wednesday, March 6, 2013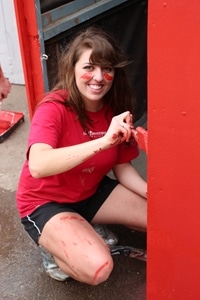 Northwestern College is included on the 2013 President's Higher Education Community Service Honor Roll in recognition of it strong commitment to volunteerism, service-learning and civic engagement.
This is the seventh consecutive year Northwestern has been recognized.
The Corporation for National and Community Service, which administers the annual Honor Roll award, recognized a total of 690 colleges and universities for their impact on issues from literacy and neighborhood revitalization to support for at-risk youth. Honorees were chosen from applicants based on a series of factors, including the scope and innovation of service projects, the extent to which service-learning is embedded in the curriculum, commitment to long-term campus-community partnerships, and measurable community outcomes.
According to Dr. John Brogan, dean of students and student life, Northwestern students provided more than 82,000 hours of service during the 2011–12 academic year.
"Our students, faculty and staff serve others because of their love for Christ and their desire to obey his command to love one's neighbor as oneself," he says. "Serving others provides opportunities for our students to see real-world issues and challenges firsthand. It's our hope those experiences will expand their understanding of people from different backgrounds, cultures and life situations and develop a compassion for the world around them."
Last year, 521 Northwestern students were engaged in community service, including packaging and delivering food to Orange City residents, building homes for the local Habitat for Humanity chapter; visiting prisoners in detention facilities, and coaching youth football and soccer teams. Over spring break, students taught English to Somalian immigrants, assisted with health clinics, helped with construction projects and performed other tasks at 13 locations around the world.
In addition, another 586 students were involved in academic service-learning, putting classroom knowledge into practice by helping area agencies and businesses. Nursing majors, for example, completed community health assessments, while education majors provided a tutoring and educational enrichment program for local junior high students.
"Service learning is one of several high-impact learning experiences," says Brogan. "Studies have demonstrated that students learn concepts at a deeper level when they are engaging and using those concepts as they serve others."
Northwestern employs two full-time directors to coordinate the college's co-curricular community service and its academically based service-learning efforts. The college also hosts and supports an AmeriCorps VISTA position through its partnership with Iowa Campus Compact and has nine student leaders who help coordinate community service opportunities.
"We congratulate the awardees and the schools for their dedication to service," says Wendy Spencer, CEO of the Corporation for National and Community Service. "These institutions have inspired students and faculty alike to roll up their sleeves and work alongside members of the community to solve problems and improve their neighbors' lives."
According to the most recent Volunteering and Civic Life in America report, in 2012, 3.1 million college students contributed more than 118 million hours of service to communities around the country—service valued at more than $2.5 billion.
The Corporation for National and Community Service oversees the Honor Roll in collaboration with the Department of Education, the Department of Housing and Urban Development, Campus Compact, and the American Council on Education. More information is available at www.nationalservice.gov/honorroll.