Symphonic Band to perform home concert in Christ Chapel March 15
Thursday, February 28, 2013
After touring Cuba during spring break, Northwestern College's Symphonic Band will perform its home concert in Christ Chapel on Friday, March 15, at 7:30 p.m. The event is free and open to the public.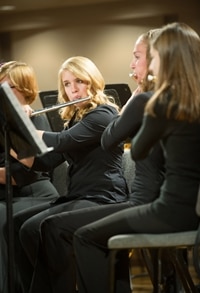 The concert will include the program played by the 54-member ensemble at its Cuban performances as well as stories of the students' interactions with members of the National Band of Cuba and other musicians during the March 2–12 tour.
"We are excited to perform our touring program and tell about our many experiences in Cuba," says Dr. Tim McGarvey, professor of music and director of the Symphonic Band. "Our repertoire includes a huge variety of pieces. It's a very good program with some rather difficult literature."
The concert will include Frank Ticheli's "Blue Shades" and arrangement of "Amazing Grace," "Overture to 'Candide'" by Leonard Bernstein, and "Celebrations" by John Zdechlik. Also on the program are "Fanfare for a New Era" by Jack Stamp, a David Gillingham arrangement of "Be Thou My Vision," and other works.