Northwestern to offer online RN-to-BSN degree program
Friday, January 18, 2013
Northwestern College will offer an RN- to-BSN degree completion program online, starting this summer. The program—available to nurses licensed in Iowa, Minnesota, South Dakota and Nebraska—enables registered nurses to improve their career prospects by earning a Bachelor of Science in Nursing degree.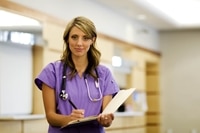 Nurses with a BSN degree are in demand in today's diverse healthcare settings. The U.S. Department of Health and Human Services and the Institute of Medicine both recommend that at least 80 percent of practicing nurses have a BSN or more advanced nursing degree. In addition, a BSN degree is required for nurses who want to become nurse practitioners, nurse midwives or nurse anesthetists.
Northwestern's online degree completion program is designed specifically for registered nurses who graduated from associate degree or hospital diploma nursing programs. Its adult student-friendly curriculum is intended to accommodate the schedules of working nurses and can be completed in two-and-a-half years while taking just one course at a time. (Most of the courses are eight weeks long.)
In addition to taking 21 credits of nursing classes taught from Northwestern's faith-based perspective of promoting physical, emotional and spiritual wholeness, RN-to-BSN students will also take humanities, fine arts and cross cultural courses necessary for earning a bachelor's degree.
"We're delighted to serve licensed R.N.s and regional health care partners with our faith-based nursing program," said Dr. Ruth Daumer, director of Northwestern's nursing program. "All the distinguishing qualities of our BSNdegree—the pursuit of nursing as a healing ministry and the opportunity for experience in cross-cultural health care settings—are part of the online RN-to-BSN option."
Northwestern is now accepting applications to the RN-to-BSN completion program; online classes start May 20. Financial aid is available for students taking at least six credits per semester.
For more information or to apply, visit online.nwciowa.edu/rn2bsn or contact Dr. Rebecca Hoey, director of online learning, at 712-707-7388 or online@nwciowa.edu.