Northwestern to host Gala Auction
Wednesday, January 16, 2013
Minnesota Twins tickets, expert landscaping, year-long movie passes and more are among the hundreds of items up for bid at the Northwestern College Alumni Association's 30th annual Gala Scholarship Auction on Saturday, Feb. 16.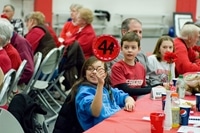 This year's audible auction begins at 11:30 a.m. in the Rowenhorst Student Center (RSC) gym, leaving the afternoon and evening open for Raider basketball as well as area high school tournament games. Browsing of the silent auction items begins at 9:30 a.m. with tables open for bidding at 10:30. The silent auction will include a "buy it now" feature that enables bidders to halt bidding and purchase the item for a set price.
Items up for bid on Feb. 16 are available for online browsing at www.nwciowa.edu/auction. 
Golf packages and gear will be on the block. Tickets for Adventureland, Chanhassen Dinner Theatre and King's Pointe Waterpark in Storm Lake will also be up for bid.
Technology enthusiasts can bid on a Samsung Blu-ray player or Nook ebook reader. Or class up your kitchen with a Keurig Platinum Home Brewing System or handcrafted wine cabinet. Gift certificates to area restaurants and retailers will also be available.
Auction proceeds support scholarships, student life programs and teaching excellence at Northwestern. Last year's auction was attended by nearly 600 guests and raised around $33,000; 50 students received $1,000 Alumni Association scholarships for this school year. Free beverages will be available during the auction; lunch and snacks can be purchased. Childcare will be provided from 11 a.m. to 2 p.m. by students raising funds for mission trips.
A complete listing of the Gala Scholarship Auction items will be available beginning Friday, Feb. 8, at the RSC desk, Orange City businesses and MJ's Sinclair in Sioux Center.