Student's play to present at KCACTF
Wednesday, December 12, 2012
"Some Five Women," an original play by Northwestern College senior Shelby Vander Molen, has been selected for presentation at the Region Five Kennedy Center American College Theatre Festival (KCACTF) at the University of Nebraska-Lincoln Jan. 20–26.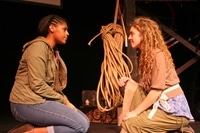 Vander Molen, a theatre and writing major from Pella, Iowa, wrote the full-length play as part of an independent study of playwriting and the feminine aesthetic. The drama, directed by junior Megan Weidner, was produced at Northwestern in early December.
The women in the play—a therapist, a mother, and three teenage girls, one of whom is also a mother—are played by two Northwestern students and three Orange City actors. The characters explore independence, parenthood, growing up and discovering one's true self amid a constant diet of parental, societal and cultural messages that set confusing expectations.
With a keen ear for generational communication differences, Vander Molen has written internal and external dialogue that clips along, especially when her teenaged characters are texting one another in loaded single-word exchanges.
Staging for the play includes projected images designed by Orange City senior theatre major Keely Wright, which the selection committee loved, said Dr. Robert Hubbard, chair of Northwestern's theatre department. "Some Five Women" is one of just seven productions, chosen from a pool of 42, to be presented at KCACTF.
In addition to staging Vander Molen's play at the festival, Northwestern theatre students will also participate in acting, technical design and other competitions.