Kang receives research fellowship
Wednesday, November 14, 2012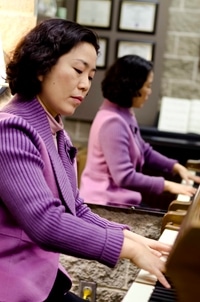 Dr. Juyeon Kang, associate professor of music at Northwestern College, has been selected to receive the college's $10,000 Endowed Research Fellowship for 2013. She was chosen by the college's Faculty Development Committee after an external review process.
The Endowed Research Fellowship is intended to fund substantive summer research that contributes meaningfully to the faculty member's discipline. The $10,000 award is provided through the generosity of an anonymous donor and may be used for stipend, travel, equipment, books, supplies and student assistants.
 A trained concert pianist, Kang will use the money to finish her second CD and to rent the Weill Recital Hall at Carnegie Hall for a solo recital in October.
"I always dreamed of playing in New York City's Carnegie Hall," she says. "It's one of the most prestigious facilities in the world, and saying you've performed at Carnegie Hall might be one of the ultimate badges of musical honor."
Kang plans to finalize production on "Joyful Dances" and release it at her Carnegie recital. The CD will feature classical piano repertoire derived from dance music of different time periods, nations and styles. Composers will include Bach, Beethoven, Chopin, Schumann and Piazzolla.
Proceeds from sales of the CD will help fund scholarships for international students at Northwestern College. Kang also plans to make her recital in the 268-seat hall a benefit concert for a charity.
A native of Korea, Kang earned a Doctor of Musical Arts in piano performance and literature from the Eastman School of Music in Rochester, N.Y. She also received the prestigious Artist Diploma in piano performance from the New England Conservatory of Music in Boston, where she was on the faculty in the college division.
Kang has performed extensively on four continents in countries that include the United States, Canada, Brazil, Austria, Germany, Spain, Finland, Italy, Thailand, Malaysia, Singapore, Japan, China, Taiwan and Korea. She launched a performance career that included her debut solo recital in Boston's Jordan Hall after winning two first prizes in 1998: the Heida Hermann Young Artists Competition in Connecticut and the Josef Hofmann Piano Competition in South Carolina. The latter led to an invitation to perform at the Polish Embassy in Washington, D.C., where she presented the Chopin Commemorative Piano Concert on the 150th anniversary of Chopin's death.
Kang has also appeared as a soloist with numerous symphony orchestras. Her performances have been aired on television in Korea and on National Public Radio in New York, Massachusetts, Ohio, Georgia, South Carolina and Iowa.