NWC piano prof to perform recital
Wednesday, October 10, 2012
Dr. Juyeon Kang, associate professor of music at Northwestern College, will give a faculty piano recital Saturday, Oct. 27, at 7:30 p.m. in Christ Chapel. The 70-minute performance is free and open to the public.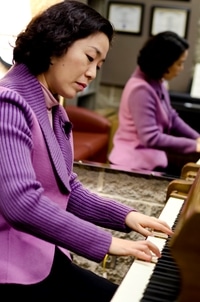 Split in two parts, Kang's recital will begin with the works of 20th and 21st century American composers. The recital's second half will be dedicated to Claude Debussy in honor of his 150th birthday earlier this year.
American compositions to be performed include "Thy Song Expands My Spirit" by Samuel Adler, "Four Piano Blues" by Aaron Copland, "Three Preludes for Piano" by George Gershwin and "Praeludium XXIV–Fuga XXIV for Piano Solo" by Henry Martin.
"Many of these 20th and 21st century pieces will sound very different from the music of more conventional composers, such as Beethoven and Chopin," Kang says. Influenced by jazz, blues and other popular genres, many classical composers since the 20th century have utilized previously off-limits techniques, such as dissonant harmonies.
"These compositions show how the artistic concept of beauty changed during the 20th century," Kang says. "The pieces are educational, but at the same time very enjoyable."
Kang previously performed these American compositions for dignitaries with the U.S. Embassy in Vienna after co-leading a study abroad course in Austria last summer.
The second half of Kang's recital at Northwestern will include six of Debussy's preludes: "Fog," "The Wine Gate," "Heather," "Undine," "Homage to S. Pickwick" and "Fireworks."
"Debussy is much like the American composers whose works I'll be performing in that he is very unconventional as well," Kang says. "There is a great deal of versatility in his preludes."
A Korean native, Kang has performed and conducted master classes extensively on four continents. She has appeared as a soloist with numerous symphony orchestras, including the Korean Symphony Orchestra and Symphony Orchestra Augusta in Georgia. Her performances have been aired on television in Korea and on National Public Radio in New York, Massachusetts, Georgia, South Carolina, Ohio and Iowa. Kang has taken first place in both the Josef Hofmann Competition and Festival in South Carolina and the Heida Hermanns Young Artist Competition in Connecticut.
Kang earned doctoral and master's degrees in piano performance and literature, as well as a master's degree in pedagogy of music theory, at Eastman School of Music in Rochester, N.Y. She joined Northwestern's faculty in 2003.