NWC hosts Morning on the Green
Wednesday, September 19, 2012
Northwestern College's annual Morning on the Green carnival will take place on Saturday, Oct. 6, as part of Raider Days, the college's annual celebration of homecoming and family weekend. Alumni, students, faculty, staff and families are all invited to attend the event that will be from 9:30 a.m. to noon on the campus green.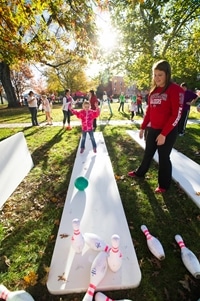 Morning on the Green will consist of carnival activities run by student clubs and organizations. The activities vary every year, but face painting, a cakewalk, fishing ponds and water balloon games may be included. There will be a large inflatable as well. Tickets are 25 cents each and most booths will require two to four tickets.
"Morning on the Green provides a wonderful opportunity to meet friends from the college and community, grab a bite to eat, entertain the kids and have fun on a beautiful fall morning," says Aletha Beeson, advancement events coordinator.
The event will be followed by a tailgate picnic and reunions for several classes and teams; football, volleyball, and men's and women's soccer games; a parents' reception; a concert; and more. A full schedule of the weekend's events can be found at www.nwciowa.edu/raider-days.