NWC students prepare for RUSH
Wednesday, September 5, 2012
Northwestern College students are preparing to perform in the popular dance concert, RUSH. The concert, which will take place in the England Theatre at the DeWitt Theatre Arts Center, will have seven performances: Sept. 27 at 7 and 9:30 p.m., Sept. 28 at 7 and 9:30 p.m., and Sept. 29 at 4, 7 and 9:30 p.m.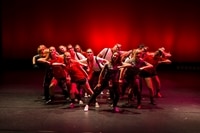 There will be many varieties of dance styles, including salsa, hip-hop, hip-hop krump, tribal, contemporary, lyrical, musical theatre, jazz, lindy hop and more. All the dances are choreographed by Northwestern students. The student dancers represent all areas of campus, including artists and athletes, students who've had musical or movement training, and those who have no experience performing for an audience.
The student producer for RUSH is Jackson Nickolay. Other members of his team include Amber Amundson, artistic director; Katie Eick, assistant artistic director; Amalia Vasquez, stage manager; Rowan Sullivan, assistant stage manager; and Karen Barker and Jonathan Sabo, faculty advisers.
RUSH tickets can be reserved by emailing boxoffice@nwciowa.edu. The box office will be open on Sept. 18 starting at 4 p.m. to order tickets. Students will be allowed one reserved ticket and Northwestern College faculty and staff, along with the general public, will be allowed to reserve four tickets per family. Tickets are $1 each.