Cafeteria remodel completed
Thursday, August 16, 2012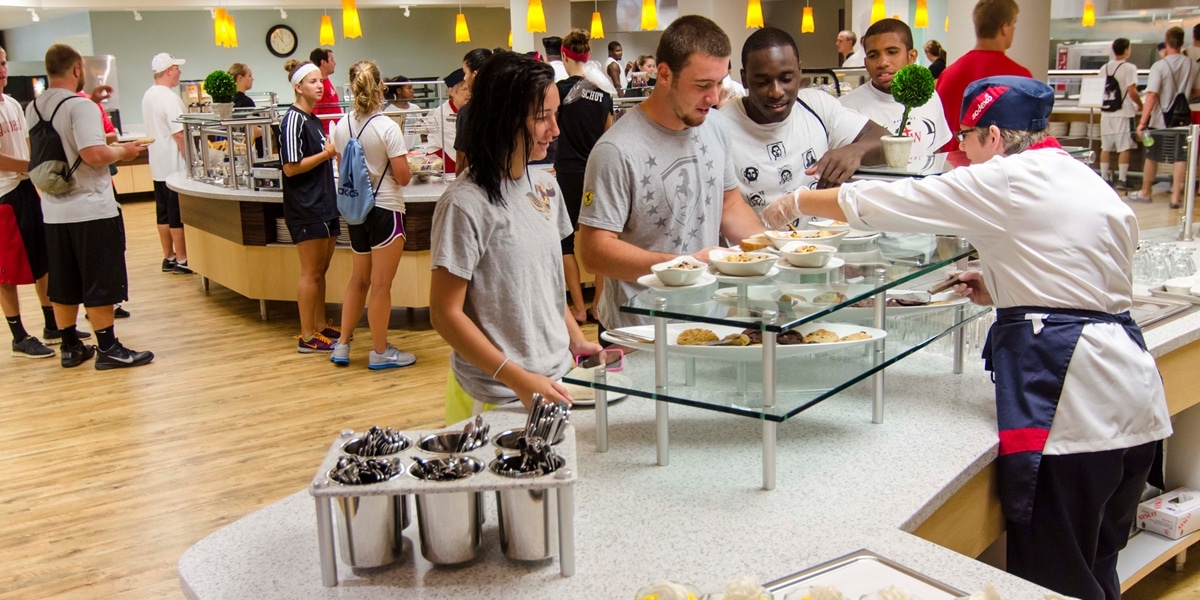 After a three-month-long remodeling project that involved gutting and expanding its food service area, Northwestern College's cafeteria re-opened Monday, Aug. 13, in time for the arrival of 400 student leaders and athletes prior to the start of school. By the time classes start on Aug. 21, more than 1,000 students will be eating in the new facility each day.
The $1 million upgrade—funded in large part by the college's food service provider, Sodexo—increased the serving area from 2,000 to 3,500 square feet. The additional space helps with traffic flow and provides room for made-to-order food stations with stovetops, grills, ovens and cold storage. Wood laminate floors and Corian countertops highlight the serving area, while the dining room features new carpet, lighting, tables and chairs.
"It was a lot of hard work throughout the summer," says Sodexo Chef BJ Whitmore, "so it's been great getting people in here and seeing the looks on their faces as they come through and say, 'Wow, this is everything you told us it was going to be.'"
Sodexo's Dining By Design approach to food service is part of a national trend that emphasizes fresher products, different flavors, and the opportunity to see one's meal prepared and plated. Sodexo employees from other colleges that have undergone similar cafeteria remodels were present as consultants during the opening week. Once school starts, Whitmore and his staff will continue to fine-tune Northwestern's dining experience through the help of focus groups and a student government liaison.
Cannon Moss Brygger of Sioux City served as the architect for the remodel. Hoogendoorn Construction of Canton, S.D., was the general contractor, and EDA of Sioux Center served as the project engineer. EDE Corporation, a firm based in Chicago, built the food service stations.
Sodexo is a North American company specializing in food service and facilities management for hospitals, retirement communities, colleges, conference centers, schools, federal agencies and military bases.