Vlieger wins staff service award
Tuesday, May 1, 2012
Pam Vlieger, Northwestern College's printing services manager, is the 2012 recipient of the college's Staff Recognition for Inspirational Service Award. Her selection was announced at the college's Faculty and Staff Recognition Banquet April 30.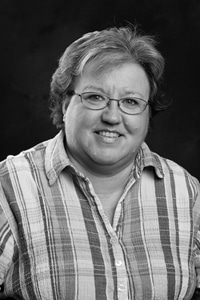 The annual award recognizes staff members who consistently provide outstanding contributions by going above and beyond what is expected, who personify a strong Christian commitment, and who distinguish themselves as an inspiration to the campus community. A selection committee composed of faculty, staff, a student and a previous award recipient chose the winner from among 14 candidates nominated by Northwestern employees. The award includes a $500 honorarium funded by the Alumni Association.
Vlieger started working in Northwestern's admissions office in 1982 and later worked in printing services and the bookstore. She completed her bachelor's degree at Northwestern in 1994 and has served as the printing services manager since 1997. Through printing and binding classroom materials, dispensing office supplies and distributing mail, Vlieger's work is part of the support system that enables others to serve students effectively.
In nominations, numerous faculty and staff commended Vlieger as the epitome of a Christ-like servant.
"I have been continually impressed by Pam's willingness to help out even on short notice, her always-cheerful spirit, and dependable professionalism," wrote Dr. Thomas Holm, professor of music. "She is a quiet, unsung hero who serves our community with grace and a servant's heart. I think her example is an inspiration to many."
Dr. Kim Jongerius, professor of mathematics, wrote, "She's never too busy to help, and she patiently shows me again how to do something she's shown me before when it's clear I don't remember what to do. She's always upbeat, and it's contagious. She can laugh at herself and gently help me laugh at myself."
Others confirmed that Vlieger's sense of humor, joy and always-present candy dish help to create a welcoming and uplifting atmosphere.
"Pam works tirelessly for the college and does so cheerfully," said Sandie Kinsinger, instructor of psychology. "Even during times of high stress, she maintains a positive attitude. Somehow, in the midst of the craziness, she manages to complete her work quickly and accurately. I have never encountered anyone as competent and hard-working who was also gifted interpersonally. Pam is a gem; Northwestern College is blessed to have her."