Northwestern's Jazz Band and Percussion Ensemble to perform
Wednesday, April 18, 2012
Northwestern College's Jazz Band and Percussion Ensemble will perform a concert on Friday, May 4, at 7:30 p.m. in Christ Chapel. The event is free and open to the public.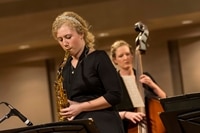 Directed by Dr. Timothy McGarvey, professor of music, the Jazz Band will play both old-time favorites and new compositions. The performance will include Sammy Nestico's "After the Rain," once recorded by American jazz legend Count Basie and his orchestra, as well as Alan Baylock's contemporary New Orleans groove piece "Hullabaloo."
The Jazz Band will also play some ethnically inspired songs, like Charles Mingus' "Haitian Fight Song," Ray Bryant's "Cubano Chant" and Mongo Santamaria's "Afro Blue."
Other songs to be performed by the Jazz Band include "Dark Side of the Blues" by Andrew Classen, "Lester Leaps In" by Lester Young and "Skintone" by Les Hooper. Each of the band's 20 members will perform a solo throughout the set.
The Percussion Ensemble is directed by Dr. Darin Wadley, an assistant professor of music at the University of South Dakota who is an adjunct lecturer at Northwestern. The five-member ensemble will perform "Gainsborough" by Thomas Gauger, "Suite for Percussion" by William Kraft and "Graceful Ghost" by William Bolcom.