Northwestern's Chamber Orchestra and Women's Choir to perform
Wednesday, April 11, 2012
Northwestern College's Chamber Orchestra and Women's Choir will perform a concert Friday, April 27, at 7:30 p.m. in Christ Chapel. The hour-long event is free and open to the public.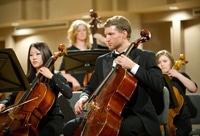 The Chamber Orchestra, directed by Dr. Timothy McGarvey, professor of music, will present a variety of music. The program will salute the theater with "Variations on a Shaker Melody" by Aaron Copland, from the ballet "Appalachian Spring," and "March" by Sergei Prokofiev, from the opera "The Love of Three Oranges."
Other works to be performed by the Chamber Orchestra include the 20th century pieces "A Severn Rhapsody" by Gerald Finzi and "Rumanian Folk Dances" by Bela Bartok, and the Baroque work "Concerto No. 24 in F" by George Frideric Handel.
The Women's Choir, directed by Glee Crippin, lecturer in music, will perform a diverse repertoire as well. They will sing two new compositions by Jon Veenker, "Behold the Throne of Grace" and "Where Shall I Find Him?" which will feature instrumental soloists Erin Van Hal of Pella, Iowa, on flute and Mary Lowry of Fort Leavenworth, Kan., on oboe.
Pianists Terissa Te Slaa of Hull, Iowa, and Shuen-En Ho from Oman will be featured in the choir's performance of Rene Clausen's setting of "Psalm 100." Robert Hugh's arrangement of "How Can I Keep from Singing?" will feature vocal soloists Laura Jonker of Brandon, Wis.; Jen Hoover of Sanborn, Iowa; Heidi Bonnema of Ireton, Iowa, and Kayla Vetter of Storm Lake, Iowa.
The concert will also include a joint performance by the Chamber Orchestra and Women's Choir on "Laudamus te," from Antonio Vivaldi's "Gloria," which was previously performed at Northwestern's Christmas Vespers in December.