Northwestern adds music ministry minor
Wednesday, March 28, 2012
Northwestern College's music department has added a music ministry minor to the programs they offer, which include majors in music, music education and music ministry; minors in music and arts administration; and pre-professional programs in music performance and therapy.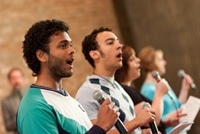 Students majoring in music ministry prepare for seminary or full-time careers in church and worship leadership, says Dr. Heather Josselyn-Cranson,  music professor and director of music ministry at Northwestern.
"But many church musicians are volunteers or part-time church employees," she explains, adding that the new music ministry minor will prepare  students pursuing a variety of careers to also serve their churches as worship leaders.

 The music ministry minor includes courses in music theory and the history, theology and practice of church music in many different styles. Students in  the program will also take voice and piano lessons.
For more information about the program, including a list of course requirements, visit www.nwciowa.edu/music.