Symphonic Band to tour
Thursday, March 15, 2012
ORANGE CITY, Iowa—The Symphonic Band of Northwestern College will tour in Mitchell and Sioux Falls, S.D., March 30 to April 1, performing full or partial concerts in six venues. For concert times and details, visit www.nwciowa.edu/band-tour.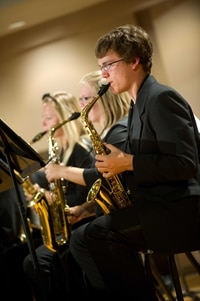 The band's touring concert includes "Angels in the Architecture" by Frank Ticheli, which was inspired by the halo-shaped acoustical ornaments in Australia's Sydney Opera House. The 15-minute piece alternates between darkness and light, represented by the instruments and music that is either fast-paced and turbulent or transcendent with strains of the Doxology.
Other pieces include "Euphoria" by John Frantzen, "The King of Love My Shepherd Is" by Alfred Reed, and "Atlantic Zephyrs" by Gardell Simons, which features senior Courtney Davis, Northwood, Iowa, on trombone.
The 49-member Symphonic Band is directed by Dr. Tim McGarvey, professor of music at Northwestern. The ensemble has performed across the U.S. and in Central and South America.