Organist to present guest recital
Wednesday, February 29, 2012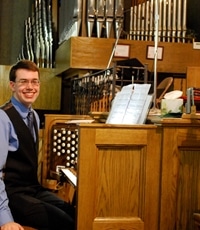 Wyatt Smith, a student at the University of South Dakota, will perform an organ recital at Northwestern College's Christ Chapel on Sunday, March 18, at 3 p.m. The event is free and open to the public.
A native of Rapid City, S.D., Smith is pursuing an undergraduate degree in organ performance from USD. He won the 2011 American Guild of Organists/Quimby Regional Competition for Young Organists in Des Moines and the 2011 USD Concerto Competition. Smith has played recitals at many venues, including the U.S. Air Force Academy Protestant Cadet Chapel in Colorado Springs, Colo., and St. Mark's Cathedral in Seattle.
Smith began playing piano at the age of seven and the organ at 10. After continuing his organ studies throughout high school, Smith went on to study at USD with Dr. Larry Schou, dean of the College of Fine Arts. Smith also studies improvisation, flute and fortepiano/piano.
The recital will include Mein junges Leben hat ein Endt by Jan Pieterszoon Sweelinck, The Wedge by Bach, A Festive Intrada by Walter Pelz and Fantasie en La Majeur by Cesar Franck.