Hello,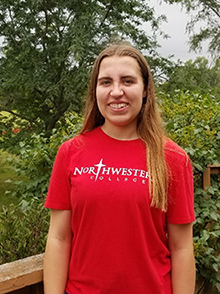 My name is Cassandra Koel, and I'm excited to be starting my senior year at Northwestern this fall! While savoring the rest of this summer with family, I look forward to reuniting with many of my dear friends again.
My first connection with Northwestern was through family, as my mom is a Northwestern graduate. But what really led me to choose Northwestern as my college home was its focus on a Christ-centered education and community. At Northwestern, glorifying Jesus as Lord is the center of everything—from classes to chapel to dorm life. I was also struck by the community I witnessed. I remember my first tour guide greeting by name the people we passed on the sidewalks. I asked her, "Is that real?" A year later, I could genuinely participate in those exchanges myself.
I arrived on campus as a shy, nervous freshman, but thankfully, the Lord placed many people along my path to demonstrate His love and draw me out of my fears. Those people included professors, my roommate, resident assistants, discipleship group leaders, and fellow band members. I could tell story after story of how God has torn down the lies I believed in high school through the words and actions of these people. I've been able to relax, ask deep questions, pray, and make cherished memories alongside many of them.
Not only have I experienced personal, social and spiritual growth during my time on campus, but I've been challenged academically as well. As a biology major focused on environmental science, I spent many hours in the lab and in the field. My horizons have been broadened through learning more perspectives than just my own, even in general education courses. Excellent music is pursued in band and choir not to make us look good, but to glorify Christ who gave us the ability.
If you have supported Northwestern College through prayer, time or financial gifts, thank you so much! Your giving allows God to continue using this college to accomplish His work in students' hearts, preparing them to follow Christ and pursue God's redeeming work in the world.
Sincerely,





Cassandra Koel '21
Huron, South Dakota