Matt Drissell Art Exhibit: "Residue"
When:
Wednesday, Oct 20 - Friday, December 10, 2021
Time:
Reception with the artist: Wednesday, Oct. 27, at 7 p.m.
Where:
Te Paske Gallery, Korver Visual Arts Center
The Te Paske Gallery's second show of the 2021-22 academic year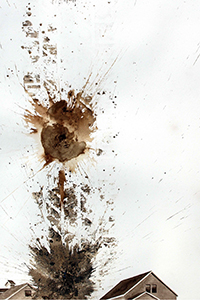 will feature art by Matt Drissell of Sioux Center. "Residue" will be on display Oct. 20 through Dec. 10, with a reception with the artist scheduled for Wednesday, Oct. 27, at 7 p.m.
Drissell's art draws its inspiration from 11 black walnut trees near his home. Drissell crushes the walnuts onto watercolor paper, and the result is embossed stains—small bursts of ink that create an intense aesthetic artifact.
"These stains are then juxtaposed with walnut ink drawings of the houses and vehicles from my block," Drissell says. "I live in a quiet and conservative corner of the upper Midwest, but the political events of the last few years have brought to light underlying disagreements and tensions. These scenes suggest there lies more beyond the idyll."
Drissell majored in art at Wheaton College and then earned a Master of Fine Arts degree from New York Academy of Art. Named a 2015–16 Artist Fellow by the Iowa Arts Council, he is an associate professor of art at Dordt University.