David Platter Art Exhibit: "Super Fascia"
When:
Monday, Aug 23 - Friday, October 8, 2021
Time:
Reception with the artist: Thursday, Sept. 30, at 7 p.m.
Where:
Te Paske Gallery, Korver Visual Arts Center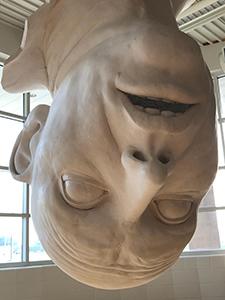 Northwestern's 2021-22 art exhibit season opens with work by Orange City artist David Platter, on display Aug. 23 through Oct. 8. Entitled "Super Fascia," the exhibit consists of sculptures done in stainless steel, plastic, or a mixture of plaster, cement and fiberglass. They include "Myself & Other," a 700-pound sculpture of a head suspended from the ceiling. There are also a number of two-dimensional digital images.
A reception with the artist is schedule for Thursday, Sept. 30, at 7 p.m.
Superficial fascia is the tissue under the skin that binds it to the parts beneath. Similarly, Platter's artwork, he says, illustrates the various strengths, weaknesses and remarkably layered nuances involved in human perception.
"With these works, illustrative distortions are laid bare," Platter says. "Collectively, the show employs various perceptual anomalies and offers tricks of perception as evidence that there is indeed something lying beneath the surface."
Platter has been teaching art for more than a decade and maintains his studio practice as a commission artist working as a muralist, bronze sculptor, metal fabricator, mold maker and freelance designer in the industrial arts. He teaches art at Dordt University and also serves as the gallery director and curator of Dordt's permanent collection.