There are endless reasons to continue your education in earning a BSN. Each student has his or her own motivation, but we are here to help you broaden your career options, grow in your nursing abilities, and achieve your education goals. Whether you're preparing to transfer directly from your ADN at a community or technical college, or you've been working in the field for years, you may be asking how do I even start!
First things first, contact an enrollment counselor to guide you through the steps.
We will look at your unofficial or official ADN transcripts to give you a transcript evaluation and optional plan of study. You can get a good idea of what YOUR program will be and when it works best for you to start. Next, you can apply for free and send official transcripts for admittance, file FAFSA and request financial aid, and the final step happens when we register you for your first semester!
5 tips in preparing for a successful and stress-free transfer:
Prepare early
The sooner you begin thinking about continuing your degree, the better. Give yourself time to plan when you'll be finishing your associate degree, taking your boards, and beginning your BSN. When you choose your BSN program early, you can be best prepared ahead of time. You can take nearly all of the electives while you are still in your ADN program. If you would like help in choosing which courses to take, contact an enrollment counselor and your current academic advisor.

If you're already a working nurse, it's not too late. We're here for support and help make the program fit you.
Know what transfers
One of the most important steps in transferring is knowing exactly what courses transfer and what courses you will have left to take in the BSN program. You can send unofficial transcripts to an enrollment counselor to be evaluated. We have partnerships with many community colleges to make the transferring of credits as seamless as possible.

Determine financial aid
Continuing your education is more than a time investment. There are many ways to help make your program affordable - from grants and loans to specific RN to BSN scholarships. You will want to file FAFSA. Our financial aid office will put together an aid package for you, and we have additional resources for you.
ASK questions
No question is a dumb question. Enrollment counselors can answer questions about program requirements, course structure, financial aid, academic tutor support, or what happens if you need to stop out a semester.
#Goals
Have you ever met a nurse that wasn't busy? Neither have I. You will be busy, but your determination to be a life-changing caregiver is the same determination to complete your degree. You CAN balance work, family, and life. An online program does give you flexibility. Believe in yourself to embrace the hard work in takes to achieve your goal. Write down your goals so when it gets tough you can refer back. Having a good support system that includes your advisor, professors, family, and friends makes all the difference.
As a nurse you are a lifelong caregiver. You have the heart to care for the most broken and worn down people of the Lord's kingdom – take courage!

Read more about how to transfer your ADN credits toward your BSN.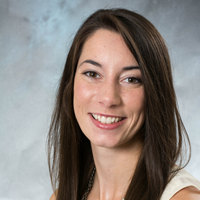 Meet the Author
Leslie Stover is the marketing coordinator for the Graduate School and Adult Learning programs. She has worked as an enrollment counselor for the RN to BSN program assisting nursing students to begin their BSN program.
Leslie is a graduate of Northwestern College. Since her graduation she has completed her Masters in Business Administration with a concentration in Marketing. She enjoys helping working professionals achieve their education goals and professional development through Northwestern programs and continuing education events.