BY Dr. Derek Brower
Associate Professor of Education; Education Department Co-Chair
Posted on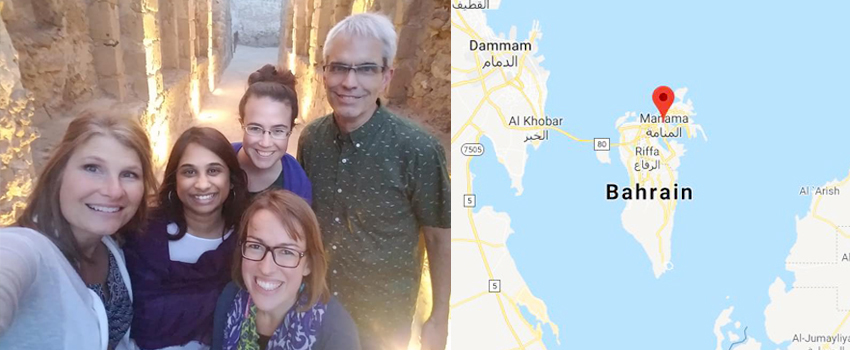 Connecting in Bahrain. 
I like making connections. Maybe it's a Dutch thing, or maybe it's an attempt to create some order in a chaotic world, but I like to see how things come together. Connections allow me to see how the world is bigger than just me and my experiences. Traveling overseas also reminds me that the body of Christ is bigger than Northwestern College and Orange City. 
Upon arrival in Bahrain, we watched our passports move from person to person like a shell game, trying to remain "anxious in nothing". The wait finally ended with Rebecca being called to the original immigration officer who provided us with the cost for our visa and allowed us to leave the airport. Then, we were welcomed by Christine Roy, a graduate of Northwestern's undergrad (English Education) and graduate (Teacher Leadership) programs.  She drove us from the airport in the midst of horn honking and flag waving, celebrating, not our arrival, but the Gulf Cup soccer win over Saudi. This football win inspired the king of Bahrain to cancel all schools the next day, which immediately changed our plans. 
When we finally made it to school, it was a dress-up day for National week, with the students all decked out in royal outfits. It felt like we were meeting princes and princesses as we toured the younger grades and listened to them welcome us to the school. Although the students mostly Bahrani, the staff and teachers are from a wider range of countries and backgrounds –India, Egypt, USA, UK, and more. Al Raja is a bilingual school in which students learn some subjects in Bahrain and some in English. 
Our host for the week was Christine and her roommates. Christine grew up in Bahrain and then came to Northwestern to become an English teacher. While here, she made connections and was fully engaged in the campus community. After graduation, she started teaching at Al Raja School and joined our online graduate program in education leadership. One of her roommates is Noemi, who is developing the Inclusive Learning Program at the school. Her other roommate is Elizabeth, who lived as a missionary kid in Bahrain and is now a para, assisting with the Inclusive Learning Program. 
Rebecca and I traveled to the Al Raja School to find ways to partner with them. Northwestern might be able to provide professional development for classroom teachers in special education. Or maybe someone in our grad program will collect data and do research with this unique school in the middle east. Possibly, one of our education students will travel to Bahrain for practicum experiences at a bilingual PreK-12 school. We have made new connections to Al Raja School and look forward to the next steps in our relationship. Ask Rebecca or me if you want to hear more. 
Peace and joy,
 Derek