Dr. Poornima D'Souza and colleagues are spreading hope, kindness and cheer as they deliver meals and educational materials to students in the Sioux Falls school district. Who says you can't also have a little fun during a pandemic! 
Her advice for educators is to focus on building relationships. Watch her full video below. 


Dr. Poornima D'Souza works with students and parents in the Sioux Falls school district as a school-parent liaison. As a Parent Educator and as a liaison, she provides immigrant families with knowledge of the school system and academic programs and supports the adaptation of immigrant families into a new and alien culture. She helps students, parents and teachers celebrate the beauty of diversity and multi-cultures.

She also teaches graduate courses in Northwestern's online Master of Education program. If you're interested in taking classes with Dr. D'Souza, explore our upcoming online graduate education courses or email online@nwciowa.edu.
She shares some helpful resources from Parent University:
For adult students, there can be a big time gap between completing one degree and pursuing the next. Maybe it's been a while since you've been in the academic mode, or maybe you're continuing right after a semester of classes. Either way, it can take time to adjust to new paper deadlines and adding one more thing to the busy-ness of life. We have found 3 keys to success to creating your personal "class time" - a consistent study time, location, and environment.   
Here are 3 tips to help you be successful in your academic goals:
Set a routine
Develop a routine of studying in the same location, approximate time, and even day. Find where you work best and can feel distraction-free. This doesn't have to be one sole space, if you can focus at a favorite coffee shop, your kitchen table, or empty classroom, it will establish a routine for motivated work time. You don't have to pressure yourself to finish everything in one sitting. It can be helpful to break up the class assignment across the whole week with at least one rest day. Some students segment their homework time into 20-minute sections, which means you focus your attention on one item and then take a 5-10 minute break to stand up, go for walk or drink water in between your next 20-minute work session. Be creative with your in-between times. You may have a few minutes during a prep period or work break that you can check discussion questions; this way you can think about your answer on your drive home and be ready for your established study time. An academic routine integrated into daily life will help you meet your goals.
Create study rules, and follow them
If you sometimes struggle with not feeling productive during your personal class time, set a few ground rules that you stick with. You might make sure you have a comfortable environment in your study area. Make sure you're not having in back or wrist pain, have good lighting, and all your materials ready before you start. Your study zone might be sitting down with a cup of tea after the kids are in bed. Whatever you decide as your rules set them and stick to them. The structure lends to success.  
Build a support team
Having accountability and support in pursuing your academic goals will help keep you on track. Share your routine and rules with your family, friends, and kids - so they can help you not only stick to it, but it also allows them to assist in creating the positive learning environment. Share with your classroom or co-workers about your academic pursuit. It will create mutual encouragement, and give them an opportunity to share in your accomplishments. What better inspiration than to show you're always learning too! You may be an inspiration for others to pursue their goals. 
At Northwestern, we are your first academic support team. We are here because we want to make a difference in your life and walk alongside you to achieve your academic goals. 
Take a look at Northwestern's adult learning programs. 
I'm excited to write my first blog for NWC!  What's even more exciting is that I can write this about a fun topic that we all enjoy – FOOD!!
My goal in this particular blog is to give you some helpful hints in trying to manage your family schedule, homework, household chores, etc. while feeding your family.  I know that there are some weeks it seems I especially fail, so don't feel that this is by any means the best method.  Make sure you give yourself some grace!
So how do I figure out what meals to make and when?  Well, there are a couple of methods I use:
Look in your cupboards and freezer to see what should get eaten or has been sitting there for awhile. If it's not expired, determine what you can make with it.  You can do this by looking for recipes that contain a few of your ingredients.  One of the best websites I have found for this is allrecipes.com


Take out one of your cookbooks each month and view recipes you think your family might like. Lay them out on a calendar according to your schedule. Make sure you write down any ingredients you might need for your next shopping trip to the grocery store. 
Once a month sit down and plan your meals according to the family's schedule. Make sure to assign crockpot meals for those nights you are super busy!  Also, build in some leftover days.  Make sure you take advantage of tailgates and fundraising meals at various churches, schools, and other community events!  It's a great way to ease the stress and mess!
Look at Pinterest for Meal Planning tips and tricks. Find one that best suits your family, food preferences, and lifestyle.
Cook some meals with friends! I love to get together with a group of friends and set aside a day to make meals!  You can also participate in meal exchanges too!
Ultimately, you need to do what works for you and your family's lifestyle.  No matter what or when you eat, I would encourage you to enjoy your family meals together!  Ask each other about your day.
Remember some of the fondest memories are made around the table together!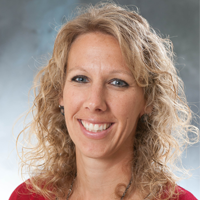 Meet the Author
Crystal is the senior enrollment counselor for the Graduate School and Adult Learning. She works especially with our Master of Ed. students in preparing to begin the program, advising on classes and registration, and walking alongside as they progress to graduation. She also completed her MBA online all while balancing work, family, and life commitments.
When Crystal is not helping students register for classes or building programs of study, you might find her training for a half-marathon, cheering on her kid's sporting events, volunteering at church or cooking meals with friends.