Michelle Henrich has more than 25 years of experience as a classroom teacher, special education teacher, interventionist and elementary principal—most recently serving as a principal in the Sioux City Community Schools and the Douglas School District in South Dakota. She holds an Education Specialist degree in administration and a master's degree in technology for teaching and learning, both from the University of South Dakota. In addition to teaching undergraduate and graduate special education courses, she oversees the policies and curriculum for graduate endorsements in special education.
---
What inspired you to pursue a career in education?
As I left high school, our family experienced a loss leaving my young cousins without a father and struggling to cope.  Their teachers were the ones who provided the love, security, and support while we dealt with the grief and uncertainty of the disease and next steps. The boys spent a great deal of time at our home, and I saw firsthand how hard teachers worked to help the boys find words rather than behaviors to voice their sorrow and fears.  In preschool and kindergarten, they were given so much support from these wonderful individuals.  I wanted to make a difference as they had in our lives.
How did you develop a passion for teaching special education and then education administration?
Special education seemed only natural during my teacher prep work. I worked at the YMCA daycare during college and had wonderful opportunities to work with students with disabilities in this setting—what a blessing—so I continued on with my coursework to double major in elementary ed. and special education. After working in the classroom for 15 years, and serving on building-level and district-level committees I was encouraged by my principal to try leadership for "good", as she said, rather than committee after committee. I first got my master in technology for teaching and learning as I love technology and the avenues it opens up. Then I tackled my administration coursework and found that helping teachers feel efficacious, and empowering them was as rewarding as direct contact with students in the classroom. I didn't lose a classroom of students, I gained even more!
What led you to work in higher education?
I chose to work in higher education as I want to help prepare those moving into and currently working in the field to be as successful as possible. Teaching is continually changing and evolving as society changes, and I want to give back to the profession on behalf of those who supported me and gave much to me. This has been possible because of the grace of God, the benefit of mentors, PLC mates, and those who challenged me to continue my education and work to serve.
Words of advice
No matter your role in education, you are valued and your example to others as a lifelong learner and drive to serve touches more than you know. Take time to truly connect with your students, even in a moment or two in times when you feel you have none left to spare. The relationships, security, and belonging you provide touch their hearts and souls. They may not notice or act differently, but the gift of time and treasure cannot be taken from them.
---
For more information about the online graduate courses, explore the Master of Education program and endorsements.
Enrolling in college is a huge step—whether it's transferring to complete your degree or returning to school after some (or much!) time away. The transition to completing homework and writing papers on a regular basis can be intimidating at first. Thankfully, you are not alone in making the transition to academic life.
Academic support is available to those who need it. As a writing tutor at Northwestern, I have had the opportunity to help students in an online nursing course. While tutoring looks a little different online, we are here to walk alongside you to help you succeed.
Receiving feedback will be a different process than face-to-face interaction. However, the quality of support will remain the same, and tutors will go out of their way to help as much as they possibly can.
When asking for help, students will typically send an electronic copy of their paper via email. Depending on tutor and student availability, a time can then be set up to discuss the paper. Tutors aren't there just to provide constructive criticism; we will also help you to capitalize on your strengths and grow more confident in whatever subject you're working in.
In the past, I have done Skype meetings or phone calls. In-document comments are also provided so students can more easily remember the comments discussed. From there, any further questions can be discussed via email, phone call, or Skype. Tutors are willing to help and work to meet your schedule demands.
While college or grad school can seem demanding, you are not alone. Whatever class you're concerned with, from math and chemistry to writing, support is available. The tutors are willing to work with your schedule to provide you with the best feedback possible. For more information about tutoring services, contact your Northwestern academic advisor.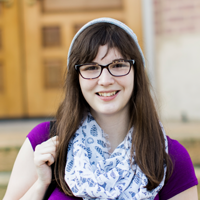 Meet the Author
Nicole is an English Teaching major at Northwestern. She serves as the Blog Coordinator and writing tutor for the Graduate School and Adult Learning. As a writing tutor, she is already preparing for her career goals of teaching 8th, 9th, or 12 grade English.
Nicole also has a passion for social justice and young adult literature.