BY Gary Richardson
Master of Education Instructor, Principal Endorsement Program Director
Posted on
I have been listening. Observing. Taking notes. Noticing patterns.
For the last three years, I have served as a school leadership coach, trained via NYC Leadership Academy protocols. It has been my privilege to come alongside fifteen principals in ten different buildings on behalf of the Administrative Support Program through School Administrators of Iowa. In these schools, I have been listening, observing, taking notes, noticing patterns.
Concurrently, as an instructor of the "Teacher as Leader" graduate course and director of the principal licensure program at Northwestern College, I have engaged in discourse with teachers and principals from all of the country, hearing about what practices support and what practices thwart effectiveness in K-12 educational systems.
Here in Iowa, this kind of constructive discourse has ramped up since the Iowa Legislature passed the Teacher Leadership Compensation Program, now in its fifth year of operation. Its primary focus was to provide a system of distributive leadership that empowered teacher leaders to provide instructional leadership to peers in their respective buildings. The subsequent conversations about instruction and learning have been some of the most robust experiences that I have observed over a 37-year career as a teacher, principal and superintendent. 
Visiting schools during this time of shared leadership between administrators and instructional coaches, I have witnessed different attitudes toward change. We educators realize that change must happen: to stay the same is to fall behind.  I have observed school cultures that promote transformative teaching and learning, and other school environments that erect barriers that impede systemic change.
Over time, I have noticed nine notable practices that make a compelling difference in creating an effective K-12 distributive leadership system:
A Shared Vision for Teaching and Learning. All staff should have the opportunity to be involved and be heard so that there can be collective agreement on a shared vision.


Opportunities for Meaningful Collaboration. Leadership should deliberately seek input from all staff affected by decisions or potential change.


Distributive Leadership Protocols. Professional principles should consistently guide how team members treat each other.


Common Language or Framework of Instruction. Whether a district uses APL, NIET, Marzano's or Danielson's framework, common vocabulary and assessment expectations are essential.


Coaching Cycles Tied to the Vision and Framework. Establishing rhythms of nonevaluative feedback leads to partnership, growth, and unified practice.


Clearly Defined Teacher Leadership Roles. These roles are then communicated to all staff numerous times throughout the school year.


An Engaged and Delegating Building Principal. The principal holds all employees accountable for participation, collaboration, and productivity, but she or he does not micromanage.


Productive Professional Learning Communities. PLCs should focus on four questions: What do we expect our students to learn? How will we know they are learning? How will we respond when they don't learn? How will we respond if they already know it?


Collective Efficacy Among Teaching Staff. When teachers believe that it is within their power to improve student learning, they will expect great things of themselves, and student achievement will rise
Does this list match the notable practices you have observed in effective school leadership? I invite you to challenge and add to my observations. What areas do you see as crucial in the K-12 school framework?   How can educational leaders provide the necessary vision for K-12 schools to follow?
In subsequent blogs, I plan to expand on each of these nine notable practices. I look forward to this virtual conversation with you.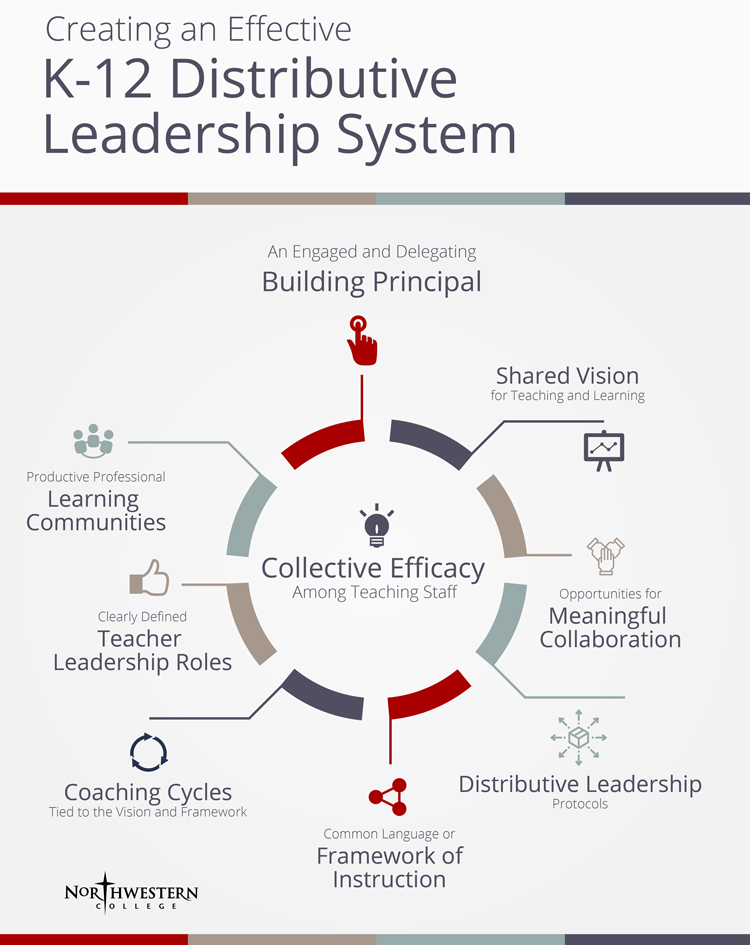 About the Author
Gary Richardson is currently the director of Northwestern College's Principal Endorsement program and an instructor in the Master of Education in Educational Administration program. He has worked in education for over 37 years as a teacher, principal and superintendent. He is also a school leadership coach for the Administrative Support Program through School Administrators of Iowa. He is passionate about training teachers leaders and administrators. Learn more about the Principal Endorsement program.