For adult students, there can be a big time gap between completing one degree and pursuing the next. Maybe it's been a while since you've been in the academic mode, or maybe you're continuing right after a semester of classes. Either way, it can take time to adjust to new paper deadlines and adding one more thing to the busy-ness of life. We have found 3 keys to success to creating your personal "class time" - a consistent study time, location, and environment.   
Here are 3 tips to help you be successful in your academic goals:
Set a routine
Develop a routine of studying in the same location, approximate time, and even day. Find where you work best and can feel distraction-free. This doesn't have to be one sole space, if you can focus at a favorite coffee shop, your kitchen table, or empty classroom, it will establish a routine for motivated work time. You don't have to pressure yourself to finish everything in one sitting. It can be helpful to break up the class assignment across the whole week with at least one rest day. Some students segment their homework time into 20-minute sections, which means you focus your attention on one item and then take a 5-10 minute break to stand up, go for walk or drink water in between your next 20-minute work session. Be creative with your in-between times. You may have a few minutes during a prep period or work break that you can check discussion questions; this way you can think about your answer on your drive home and be ready for your established study time. An academic routine integrated into daily life will help you meet your goals.
Create study rules, and follow them
If you sometimes struggle with not feeling productive during your personal class time, set a few ground rules that you stick with. You might make sure you have a comfortable environment in your study area. Make sure you're not having in back or wrist pain, have good lighting, and all your materials ready before you start. Your study zone might be sitting down with a cup of tea after the kids are in bed. Whatever you decide as your rules set them and stick to them. The structure lends to success.  
Build a support team
Having accountability and support in pursuing your academic goals will help keep you on track. Share your routine and rules with your family, friends, and kids - so they can help you not only stick to it, but it also allows them to assist in creating the positive learning environment. Share with your classroom or co-workers about your academic pursuit. It will create mutual encouragement, and give them an opportunity to share in your accomplishments. What better inspiration than to show you're always learning too! You may be an inspiration for others to pursue their goals. 
At Northwestern, we are your first academic support team. We are here because we want to make a difference in your life and walk alongside you to achieve your academic goals. 
Take a look at Northwestern's adult learning programs. 
The 2017 Northwestern College commencement ceremony was certainly one for the archives. For the first time since 1996, Master of Educations students walked across the graduation stage. Although preceded by two graduate cohorts, these students collectively marked Northwestern history as the first Master's students to complete their advanced degree entirely online. Forty-six Master of Education students and four RN to BSN program graduates earning their Bachelors of Science in Nursing completed their Northwestern degrees online this year. As online programs increasingly grow in availability and popularity, Northwestern seeks to serve working professionals with quality continuing education opportunities rooted in faith and community.
Building online programs that encourage working students to develop relationships with fellow students and faculty without meeting face-to-face or even online at the same time is not an easy task. It takes a common purpose and a lot of dedication for students and faculty to have the best experience. In observing the commencement ceremony and reception, it was obvious how impactful these online programs are in the lives of both students and staff. Their touch points had remained on either side of computer screens until the celebration, which allowed faculty to finally meet their student's newborn or hug their student who battled and beat heart surgery. For all – it was more than celebrating academic accomplishments but acknowledging life's journey.
"We [the Graduate School and Adult Learning faculty and staff] were ecstatic to meet the graduates who attended graduation. The online environment at NWC allows faculty to get to know these students so personally, however, the opportunity to give them a hug and see their joy in being hooded was unforgettable. In addition, the reception after the ceremony was an awesome time to spend with our graduates and their families while honoring their accomplishment, "said Master of Education Director Sara Waring-Tiedeman.
As President Greg Christy encourages all graduates, "Northwestern has been part of God's will for your life, and I pray what you learned here enables you to eagerly and skillfully respond to God's call in your work, faith and family life." Northwestern College is now an influence for student eighteen years of age or fifty-five, but regardless empowering them to follow Christ and pursue God's redeeming work in the world.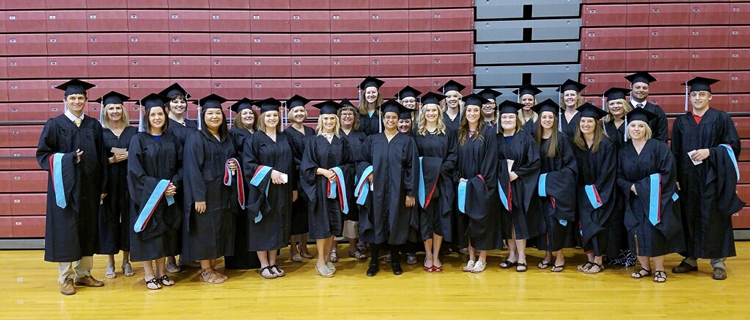 There are endless reasons to continue your education in earning a BSN. Each student has his or her own motivation, but we are here to help you broaden your career options, grow in your nursing abilities, and achieve your education goals. Whether you're preparing to transfer directly from your ADN at a community or technical college, or you've been working in the field for years, you may be asking how do I even start!
First things first, contact an enrollment counselor to guide you through the steps.
We will look at your unofficial or official ADN transcripts to give you a transcript evaluation and optional plan of study. You can get a good idea of what YOUR program will be and when it works best for you to start. Next, you can apply for free and send official transcripts for admittance, file FAFSA and request financial aid, and the final step happens when we register you for your first semester!
5 tips in preparing for a successful and stress-free transfer:
Prepare early
The sooner you begin thinking about continuing your degree, the better. Give yourself time to plan when you'll be finishing your associate degree, taking your boards, and beginning your BSN. When you choose your BSN program early, you can be best prepared ahead of time. You can take nearly all of the electives while you are still in your ADN program. If you would like help in choosing which courses to take, contact an enrollment counselor and your current academic advisor.

If you're already a working nurse, it's not too late. We're here for support and help make the program fit you.
Know what transfers
One of the most important steps in transferring is knowing exactly what courses transfer and what courses you will have left to take in the BSN program. You can send unofficial transcripts to an enrollment counselor to be evaluated. We have partnerships with many community colleges to make the transferring of credits as seamless as possible.

Determine financial aid
Continuing your education is more than a time investment. There are many ways to help make your program affordable - from grants and loans to specific RN to BSN scholarships. You will want to file FAFSA. Our financial aid office will put together an aid package for you, and we have additional resources for you.
ASK questions
No question is a dumb question. Enrollment counselors can answer questions about program requirements, course structure, financial aid, academic tutor support, or what happens if you need to stop out a semester.
#Goals
Have you ever met a nurse that wasn't busy? Neither have I. You will be busy, but your determination to be a life-changing caregiver is the same determination to complete your degree. You CAN balance work, family, and life. An online program does give you flexibility. Believe in yourself to embrace the hard work in takes to achieve your goal. Write down your goals so when it gets tough you can refer back. Having a good support system that includes your advisor, professors, family, and friends makes all the difference.
As a nurse you are a lifelong caregiver. You have the heart to care for the most broken and worn down people of the Lord's kingdom – take courage!

Read more about how to transfer your ADN credits toward your BSN.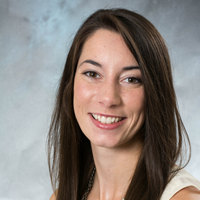 Meet the Author
Leslie Stover is the marketing coordinator for the Graduate School and Adult Learning programs. She has worked as an enrollment counselor for the RN to BSN program assisting nursing students to begin their BSN program.
Leslie is a graduate of Northwestern College. Since her graduation she has completed her Masters in Business Administration with a concentration in Marketing. She enjoys helping working professionals achieve their education goals and professional development through Northwestern programs and continuing education events.