Love Changes Everything
For two years, I spent my spring break serving on a Spring Service Project working with a ministry called Hope for Opelousas. This ministry works with students hailing from St. Landry's Parish, the poorest school district in the state.
My first year, I walked into Opelousas Junior High, wide-eyed and ready to change the world. What I didn't realize was how complicated building relationships would be. I spent the week working with students, tutoring HFO kids, and connecting with members of the community. But when I left, I still felt unsure. I didn't know whether I'd made my impact or helped anyone. In fact, it had felt as though the people of Louisiana had changed me more than I had changed them.
Fast forward to the spring of my junior year. After not feeling as though I had done enough, I decided to sign up to return to Opelousas a second year. This year, I knew I'd make a difference. After joining together with my team of 19 other individuals, I was awestruck by the wonderful people I'd be embarking on this journey with. But when we got down to Opelousas a second time, I realized I wasn't there to change the world. I was there just to show I care and love people deeply.
 I spent three days serving in Opelousas Junior High once again, walking alongside a new teacher who had just finished her training and walked into a messy classroom of students mid-year. She was worn down from trying to take control of a group of students she'd never worked with before. However, the characteristic I kept seeing shine through this teacher was her love and deep desire to help these students.
The days I wasn't serving in the school, I helped scrape and prime a house to be painted. We also cleaned out a storage area for a local organization that offered extracurricular activities for students in the area. While standing around and cleaning all day may not sound like a treat, spending time with the wonderful people of Opelousas and Northwestern certainly was, and seeing the excitement of everyone as the house was closer to completion definitely made the days worth it.
Perhaps the best part of the whole experience was serving a student named Landon. Landon was a 7 th grader who attended one of my classes at Opelousas Junior High. After school, I had the opportunity to work alongside him and tutor him through HFO. Watching this student work to the best of his abilities to make his mother proud was phenomenal.
It was here that I learned that I wasn't there to change peoples' lives. Instead, I was there to love, and that was enough. After all, just like Hope for Opelousas' mission statement says, "Love changes everything."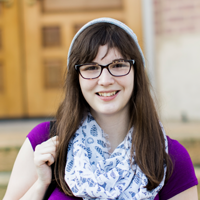 Meet the Author
Nicole is an English Teaching major at Northwestern. She serves as the Blog Coordinator and writing tutor for the Graduate School and Adult Learning. As a writing tutor, she is already preparing for her teaching career. Nicole will graduate May 2017 and serve as the 10th grade english teacher at MOC-FV in Orange City.
Nicole also has a passion for social justice and young adult literature.